Friday, July 30, 2010
Friday Haiku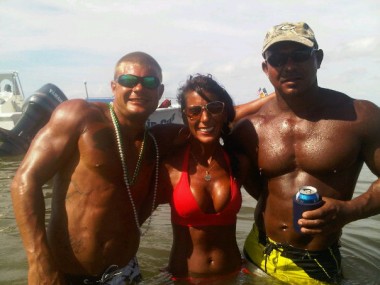 Wonderbread lake turds,
Burnt to a douchebag crisp,
No hott, so here's pear.
Douches forgot their
SPF. God smites them with
nuclear sun rays.
– Franklyn DealorNo Doucheifelt
Call Carl Spackler
to get three pieces of poo
out of Bushwood Lake
– dknutty
Overcome by fumes
Burnt by the tanning bed sun
Twin choads flank MILF Hott
– SonnyChibaChoad
Oil slick rises up
Takes a semi-human form
and poses for pic.
– Hot Buttered Poopcorn
Microscope view shows
paramecium party;
single brain cell 'bags.
– Wheezer
Fart squealching grimace
Proud choads pose with their mom
Won chili contest
– Vin Douchal
Tony's blue blockers
Can't stop Tina's fake knockers
All three are Fokkers
– saulgoode42
Lake trip mem'ries fade
But some things last forever
Like melanoma
– Mr. Scrotato Head