Tuesday, December 14, 2010
The Ricky: Pete from "Pete Tentatively Makes the Rocker Horns"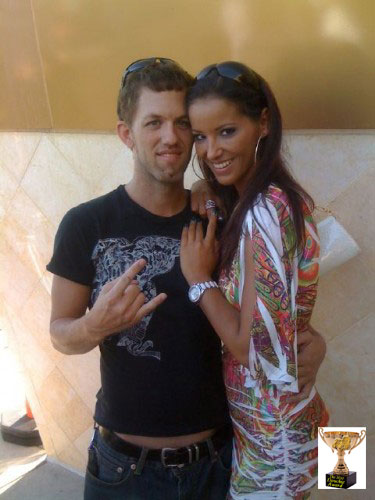 While the voting carries on for the Hottest Hott Brackets, a bunch of awards to give out today.
First up, the 2010 Douchie Award For the douchiest everyday average shmoe, aka"The Ricky." Given this year by Jonezy:
————-
The Ricky is reserved for the bag that has only been lightly dusted with douchery, where the signifiers are minor and hardly offensive, and though his decisions while regrettable, can hardly be scorned.
For the Ricky bag is in hot pursuit of some tail, and when presented with the prospect of capturing some quality Hott, the bounds of douchbaggery can become blurred. We've all been a Ricky at some point, so we say to the Rickster, "go on with your bad self" and wish him well on his pursuit of the Hott.
So in culling the annals of an entire year's worth of horrendous pictures, there are quite frankly very few instances where mock is replaced with encouragement.
However, back in September we find a worthy winner of the Rickybag award in Pete replete with Rocker Horns. Sure he's tossing a stupid hand gesture, and yea, his shirt is an Xtra Small, but when you see that Pete is within touching distance of a delectable quality Hott like Desiree, you find it easy to suppress your mock and wish the best for little Pete, who bizarrely has an identical chin as the original Ricky. And so we say, go on with your bad self Pete, and please try to avoid clicking the BEH links in Pete's post.
A few others are close, such as first runner up Pec Star and friend, who received double mock in October as well. More leniency for his friend sporting a casual and acceptable hang loose, whereas without the Pec Star tatts, I could forgive the puka necklace in pursuit of the young probably not legal hotts in matching attire. Go get 'em fellas.
And also back in November, as DB1 was obviously cleaning the cabinets of subprime Douche pics, NYPD Old Bag is hardly offensive and generally just happy to have some lovely young ladies joining his nautical adventures. Even Orangest Orange contender, Mandarin Orange, is a rather Ricky-like bag, not to mention this guy.
And finally, strictly because we all enjoy some reminder pear, a nottadouche more than a Ricky from back in July.
Another great year of mock everyone, and so we say to this year's Ricky winner Pete. "GET SOME".

—————