Friday, January 7, 2005
Friday Haiku – early edition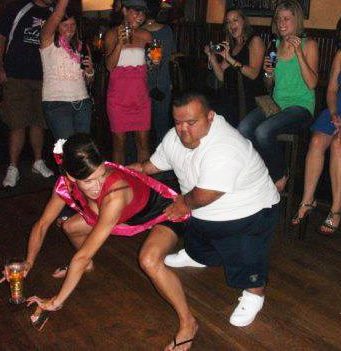 As Bobby Largeman
Looked on in disdain, he thought
"Those damned Harkonnens…"
March Madness is here!
World's shortest power forward,
drives hard to the rim.
— hermit
Baby Beluga
In the deep blue pants, tries to
flip-her, towards Willy.
— Charles Douchewin
He doesn't wear socks
Since the gyroscope was put
In her Monkey Hole.
— The Reverend Chad Kroeger
lube and beer in hand
awaiting the gyroscope
shit is getting real
— Dickie Fingers
How low can they go?
Morals, self respect & shame
Puddle 'ponst the floor.
— Crucial Aloysius Head
Nobody wants to
see "Midget Mike" get naked.
Cheer for death instead.
— Dr. Bunsen HoneyDouche
Having a damaged
Chromosome won't keep us from
Making fun of you
— DoucheyWallnuts