Tuesday, January 18, 2005
Friday thoughts & Links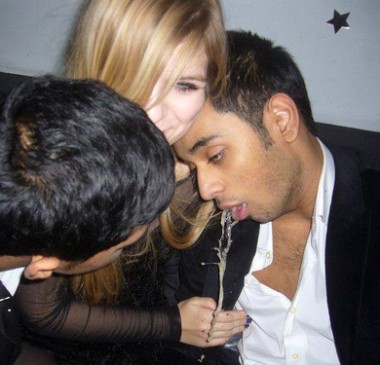 Here you see unsung hero Yusef Mustafa. Yusef was, of course, designated to fly the 5th plane on Sept. 11 into the Statue of Liberty. So, like the other douchebag terrorists that night he went out clubbin' with ho's. Unlike them he decided to err on the side of boobies and pear; unlike his comrades he didn't wake up in Hell. He walked away from that Jihad and is now a telemarketer for The Ketone Diet Plan™ by day, douchebag club-goer by night.
Hey, I never said this story had a happy ending. So now Yusef is our problem instead of the NSA's. Let us continue The Mockk. Let us Get Their Goat. < –Totes M'Goats.
Today is the 83th Anniversary of Homer J. Simpson's Famous Manifesto.
Speaking of Manifestos – Douchebait Manifesto.
It is also the 114th Anniversary of Stephen Hawking's discovery of String Theory; most folks don't know he had this epiphany at Fat Larry's on Lady's Night.
Bro-Bump for the Decline o' Western Civilization.
East German girls need love too.
So, um…you need a banana for that split?
Alright you slavering wretches; that's enough for this episode of "Dumb Whiteys Misbehaving In Club Land". I'll slap some gratuitous gratuity below then get back to my vacay, Son. I am OUTA HERE!!! Fetus don't fail me now!!!
To The Fap-Cave, Robin!!!