Tuesday, January 11, 2005
Friday Thoughts n' Links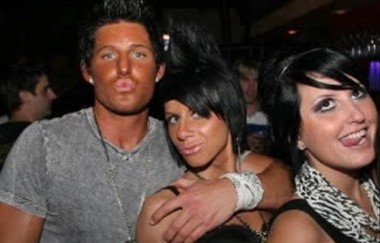 DarkSock here, for a pensive Friday Thought and Links. Son.
Pensive, because, y'know, we're fortunate to live here, in 2005, in a prosperous country protected against greedy f*ck-society me-first sociopath bankers that would, if left to their own devices, destroy the world economy. A country free from the e'er present threats of the world's avowed anarchists.
No…ours is a country filled with unsung and selfless heroes. Such as Plinky's Mom, who donated the trimmings from her labiaplasty for Lindsey Lohan's lip reconstruction. (*YOBBITA-YOBBITA-YOBBITA-PHRAPPPFTH*)
A country where we are free from dilution by illegal aliens. (*AKK! AKKK AKKKK AKKK!*)
Where red-blooded U.S. men can do what they wish with their Best Girl. Unless a sign prohibits it. But you can always try and get her to see things your way.
Butt enough…let's now see things OUR way:
Volleyball Bonanza Featuring The Holy White Pixel.
Unintentional Digital Man Pear That Jacques Doucheteau Would Prolly Still Hit. No Homo. Son.
Bulbous Bunny Booty Boner batin' Pear.
Beloved Frozen Selfie Pear With Whom I Would Have Deep Meaningful Sex With. In the Buddox. Son Seriously. Son. Enough to make even George Takei say O My.
Beloved Bulbous BeachBall I'm Starting To Get Kinda Drunk n' Horny and Need to Go Do Somethin' Pear.