Thursday, January 20, 2005
Monday Belated Friday Thoughts and Links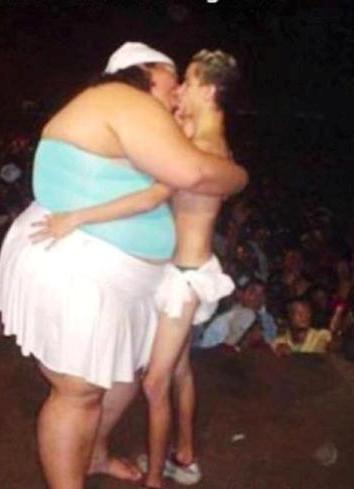 DarkSock here with a PSA…Some of the HCwDB alert readers may recently have noticed a slight upheaval as HCwDB switched servers (for example, my inability to figure out how to revert to my trademark blue text…) so the attached photo is my way of thanking you for sticking with The Fight through thick and thin. (I'm not sure, but this front page photo may actually be a rare prom photo of Plinky's Mom.)  We are a talented and diverse lot with many facets, much like NBC anchorman and noted rap artist Brian Williams. And we remain dedicated to using this vast array of talents for fighting douche/bleethe scourge wherever it rears its ugly heads.
So as a thank you for hanging in there I present you a Pearapalooza theme which is an oldy but a woodie: The genius of Queen and Freddie Mercury's 1978 nude bicycle race. Without so much nudity, but still…here ya go:
Pink Uplift MoFo Party Plan Pear
Is That A Banana Or Am I Happy To See You
Nice Rack On The Back Bicycle Pear
There…are we now over the site glitch? Thought so.