Sunday, April 24, 2005
Double Belated Fraiku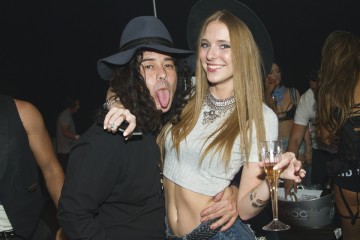 Sir Lickey McSplit
Soils honey-haired goodness;
Atheism soars…
Skinny D'Amato
has some work ahead of him
this douche deserve it.
Skinny D'Amato
Wouldn't dirty his digits
On this here j'drool
She holds her wine glass
like she holds his dick. Fingers
give full coverage.
Long hair twat face douche
Nose candy remnant nostrils
Don't click on photo
Crack Black hasn't
Had a song in years. Traded
Wife for taut tummy.
Discount Gene Simmons
wants to rock and roll all night.
Don't Lick It Up, Beth.
Suzy dallies with
Tiny Tim's retarded son
Tiptoes through the herps
Cellulite Ass Cheeks
Background Jenna Largewoman
Adam Duritz Clown
Dr. Bunsen HoneyDouche said…
Poor Richie Blackmore
hasn't aged very well but
group doesn't care.
Ten of us left at
Recent count. Crazy fuckers
Telling the truth Sons.