Tuesday, April 26, 2005
Fourth o' Fraiku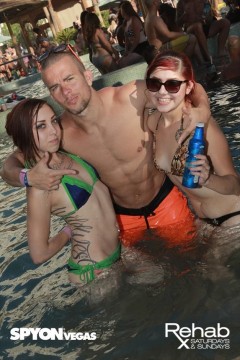 Under-Age Frolics
In the shallow end of the
Gene Pool…filter's clogged
She don't have no tits
Since the gyroscope was put
In her Monkey Hole.
Skanky Rehab girls
Drink Bud Lite in a soiled pool
Great day for this douche
He is pointing at
the underwater caverns
he'll never explore.
Can we ask the drought
To dry up the ReHab pool
Then scrape off the trash
Confused bag points to
Floater he let slip out, things
Went all Caddyshack
Better check the skanks'
I.D.'s Jason. Fifteen will
get you twenty bro.
Two twos ain't a four.
Unless you use douche-math, where
five twos ARE a "10".
What kind of dental
nightmare is the tatted chick
attempting to hide?
Dr. Bunsen HoneyDouche said…
Liposuction from
Jill Largewoman could help these
two quite immensely.
Under-Age Frolic
Body Tat claims Wildest
Meth!, hell of a drug.
Lolita Largeman
Languishes in the "B" Pool
Thanks to her huge Gunt
Crapping in this pool
Would actually improve
Picture quality