Friday, April 15, 2005
Freaky Fraiku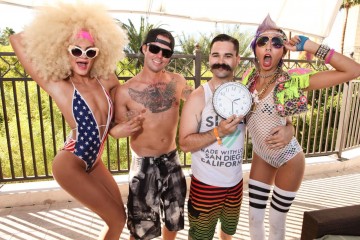 One of these people
Is in 'costume' all of the time;
Guess and name which one…
Electro Charo
Goes all coochie-coochie on
Own ass. Hair boils.
Left Hott resembles
Rosanne Rosanna Danna
Bringin' back the frizz!
Lucille Ball statue
has stiff competition from
the thing on the left
Toothless frizzy chick
Celebrates pay for BJs
To all three of them
She takes the trophy
for this years "San Diego
Hott Sternum Award"!
Elastic Snap-Hole of the Love Bear said…
You too can save up
5 years' bikini wax hair
And craft your own wig
Salad's getting tossed
quite often in this picture;
Caesar's Cross-Dressing
My spittle would froth
down the length of Sideshow Boob's
plunging neckline
"Rest In Peace" tattoo
tribute to loss of his self
respect / dignity
Honkey Flava Flav
Macking on Bleeth with Thigh Highs
But it's a Tranny