Monday, May 9, 2005
Fraiku – Ken and Boobie Dolls Edition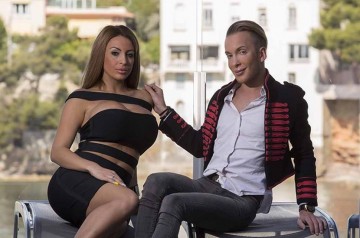 I saw this pic from alert reader MC900footdouchebag and I had to nick it for Fraiku…
Ken and Barbie? No…
What a pair…No, it's more like
Kenna and Boobies
Everyone knows that
Barbies don't have genitals.
Don't do this half-assed!
Ken looks like a cross
between Michael Jackson and
Donatella V
I am sitting here
And realize this is the worst
Thing I've ever seen.
Poor Man's Lena Dunham said…
Their faces were switched
at birth. Their genitals removed.
Thanks ObamaCare!
Macy's Mannequin
And cheap knock off Real
Doll share a moment
Something tells me that
This broad's monkey hole is sewn
Completely shut. Son.
Dr. Bunsen HoneyDouche said…
Science is awesome.
Human-shaped condoms keep you
safe and disease free!
More like Down's Syndrome
Boris and Natasha B.
Meet Moose and Squirrel
Which one wears it worse?
And by ~it~ I mean Botox
and lip injections.
judging from background
this picture was taken in
Homoslavia
Macklemore really
went downhill since lips replaced
by frog intestines.
Dr. Bunsen HoneyDouche said…
I'm betting that dogs
yowl in pain whenever they
try to use toilet.
Photog says to them
"Make blowjob with teeth to the
camera!" Nailed it.