Thursday, March 11, 2010
Douchebags, Trampy Hotts, and Lots of Empty Space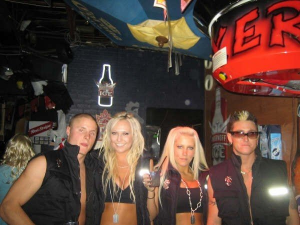 It has always amazed me that there are people capable of speaking a language, driving a car and acquiring food and shelter on a daily basis who can't line up a perfectly mockable hottie/douchey photograph without evidence that they went mid-seizure, Gary Coleman style, during the "click" portion of the photographic effort.
You've got two douches in Blade Runner vests mugging a couple of Jerz Trampsters, and you give me a pic of the wall above their heads?
Come on now, Dishwasher Dave. Don't make me make you clean out the alleyway again.