Friday, March 12, 2010
Friday Thoughts and Links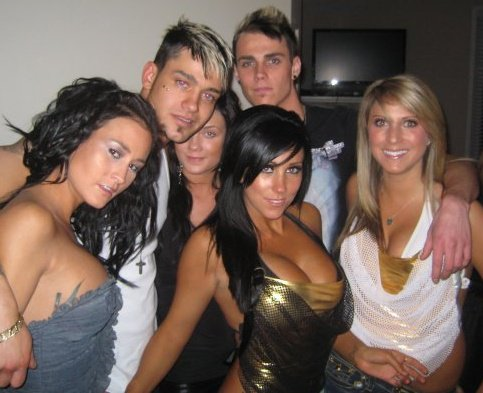 A bouncy week for your humble narrator, as his time meditating on the boobie hottie suckle thigh (quality brunette edition, pictured here) and mocking the choadscrote (multihairwanks, pictured here) was distracted by all sorts of things like "CSS code" and "hosting site." The internets are a silly place. But they allow us cultural mock as a form of societal shock treatment. So for that, we be grates.
Here's your links:
In a bizarre form of cross-culture pollination of poo, Ed Hardy style is now influencing cowboy hats. Up next: Limited edition Ed Hardy Hitler Youth Swastikas.
Little children reenact The Jersey Shore. Hmm… maybe we should do a 'bagling episode next season on Is She Really Going Out With Him?
2008 Douchiest Athlete of the Year winner, kicker Jeff Reed, douches it up with former President Bush. Later, they Jagerbombed Iraq.
Hall & Oates on SCTV in "Chariots of Eggs." Bizarre early 80s comedy genius.
Random sites continue to rip me off in strange ways. "This entry was filed under 'baseball'"?
Mattel adds to it's Barbie line with its latest, Douche Ken. Or perhaps Liberace Gay Ken? Or is that redundant.
The Stackhousian poetry of "Get Some" continues to spread like a viral douche plague mating call.
Hall of Hott legend Veronica, whom the DB1 can personally certify as quality suckle thigh, gets posterized.
Korean Man Marries Pillow. In a related story, I groped a cushion.
Okay.
You've been very patient with the site transition. For all of your hard work, here ya go. Spend it wisely:
Go forth, kids. Go forth and mock in the grandest of the Oscar Wilde, Lenny Bruce and George Carlin traditions.