Saturday, March 13, 2010
Reader Mail: Tagging a Scrotomobile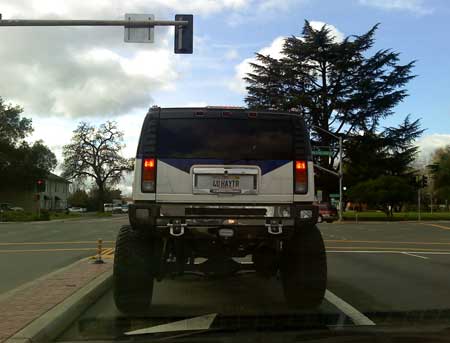 —-
To Mr. Douchebag1:
I know this picture contains nary a hotte or a even the visual presence of a douchebag's posing to Satan's delight, however the picture is most worthy of your site. By Christ on his throne, a Hummer with a custom paint job on elevated wheels and a vanity plate that says 4UHAYTR . . . it is utmost douchbaggery!
When I saw this abomination on the road I knew I had to take the risk of getting caught by the police and break California's prohibition against touching a mobile phone while on the road and take a picture of this afront to God and all that is good and holy with my mobile phone's camera. At this same intersection my own brother previously paid several hundred dollars for doing what I had done to get this picture.
As in all wars previous, the war against the douchebaggery needs sacrifice to ensure victory. I figuratively jumped on a grenade to get this picture, and luckily for me the grenade was a dud.
Stay well,
LT. Haytr4Life
—
Anyone who thinks our war on choadpocalyptic visions like this one is over, think again. We must keep mocking. If not for the children, then for the suckle thigh.