Thursday, April 8, 2010
Ask DB1: Are Bodybuilders Bodybags?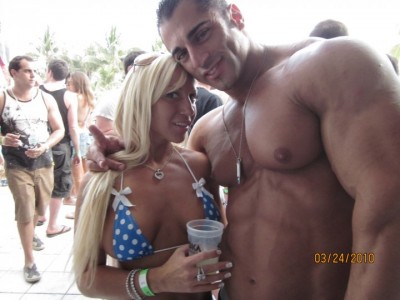 —-
DB1,
I was wondering, are body builders automatically douchebags? Like, is it a profession that automatically qualifies you as a total scrote, or is it only douchebags who think that you can call injecting steroids every day a job.
Sincerely MJS.
—-
We define douchebaggery as the transformation of the body into spectacle to attract attention, so by that definition, yes, anyone who excessively works on their body beyond the point of good health or physique, qualifies.
However, as we see with Lumpy here, and his distant cousin, the late, great Pumpy, good humor and good cheer can go a long way towards mitigating any inherent douche classification.
So I will say yes, extreme bodybuilders start at a basic stage-1 'bag status. But can redeem themselves if there are no other scrotal signifiers present, and they exhibit self deprecating humor about their own cartoonish bodies.
And I see you too, Stacy. The pinch you just felt on your buttcheek? Wasn't me. Okay, it was.