Wednesday, April 28, 2010
Breaking: Internet Uberdouche "Nik Ritchie" fulfills Goal to Become HCwDB Crap Sandwich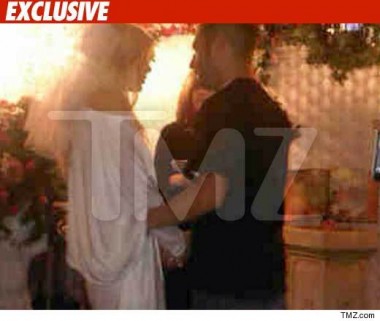 Perhaps the biggest testes gargle on the internet this side of Arthur Kade, the loathsome uncreative vortex of suckage, "Nik Ritchie," who "runs" thedirty.com, married Lorenzo Lamas's daughter in Vegas after knowing her a week.
This fulfills Mr. Ritchie's lifelong dream of becoming the HCwDB ubercrap sandwich his spiritual limitations long ago defined as the be all, end all, of self inscription in the pop culture babbleverse.
This odious clown has been ripping off HCwDB's pics and concept for years. First in his old site, "Dirty Scottsdale," and now as the gossip peddler of college catfights. Mr. Ritchie deserves every bit the inevitable crash and burn awaiting his pablum sucking lifestyle of attention whoring desperation.
No Nik, the Hollywood agencies won't sign you. Not even if you marry z-list celebrity spawn. But keep harassing them for months with phone calls containing all your genius ideas for the next "Girls Gone Wild."
Or your reality pitch, "How to Take a Mugshot Like a Champ".