Thursday, April 22, 2010
Dave and Mitch Hatch a Plan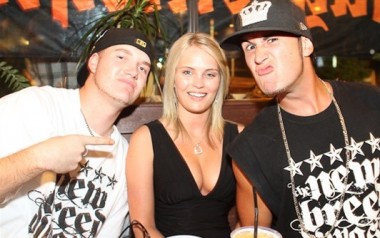 Dave: Bro, you know what would be rad?
Mitch: What's that, Broheim?
Dave: If we, like, totally wore the same shirt, only, like, you wear it in black, and I wear it in white!
Mitch: Bro! We'd be like negatives of each other!
Dave: Totally. And maybe then Jenna will pose for that pic for your Facebook so the ladies will know that you only roll with the A-List Hotties!
Mitch: Bro. Totally. That's what I've been telling you! You gotta think outside the box, bro. And then all that mad puss will be yours.
Dave: I know, right? Hey, don't forget to make that rocker face for the pic! You look like such a badass when you do that.
Mitch: Totally. Jenna wants me.
Dave: You can totally tell.