Thursday, April 15, 2010
Donkey Douche says, "Not So Fast, Xenu!"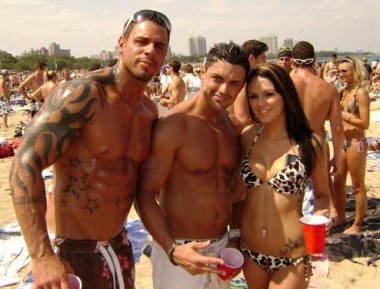 Wait… Whats this?!
It's the Donk!!
Yes, HCwDB legend and 2009 Lifetime Douchechievement Winner Donkey Douche heard that Xenu and Joey Porsche were coming by to prove their bonafides, and the Donk said, "Oh hell no!!! I can top those douchebags."
Well, what he actually said was, "Grunnnghhhhh. Me like tacos." But I extrapolated the rest.
Here's the Donkster bringing another HCwDB legend of taint, 2007's Chandlerbag, three (!) Ubiquitous Red Cups and the sweet, innocent drinkability of Julianne and her innovative boobal cell phone storage system. That's one power-packed HCwDB pic, people.
That's why the Donk is Hall of Scrote legend. There are many douches in this world. Few, who can bring a consistency of arm grease like the Donkster.