Friday, April 16, 2010
Friday Haiku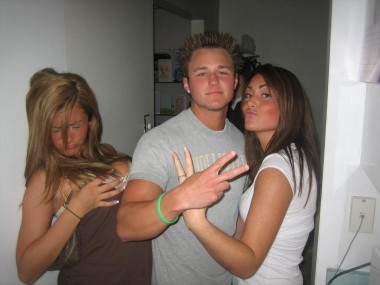 Spikey Blowout Ken,
Blasts wind into Simone's face,
Hark! Too many beans.

Allergy season:
Claritin and Goose don't mix;
danger for poor bleeths.
– Wheezer
Fungus from Ken's head
Simone recoils in horror
From leaping head lice
– Vin Douchal
Ken mugs Bleeth Susie
while releasing Ass Kraken
to destroy Simone.
– Mr. White
The toothy eels in
Kim's nostrils are making plans
to eat douche and bleeth.
– Dr. Bunsen Honeydouche
Axe sun tan lotion
Blatant, culture erosion
Implant explosion
– Anonymous
Ditzy young white girl,
Succumbs to sudden seizure
Just like Fred Sanford.
– scrotum pole
Oh poor sweet Simone.
Safer to stand behind horse.
Wisely shields boobies.
-Amerigo Vesdouchey
Drugs from left to right:
Cocaine, good marijuana
And lemon ball-sack
— saulgoode42
Kurt and Jen signal
"Two if by Pee". Drunken Bleeth
should find a raincoat.
– Franklyn DealorNo Doucheifelt