Friday, April 9, 2010
Friday Thoughts and Links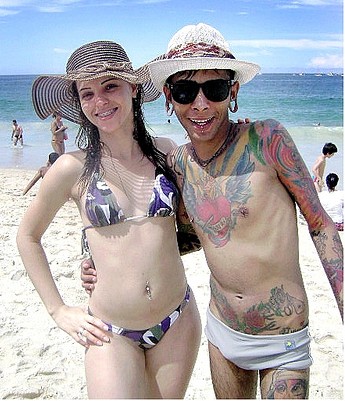 Some days, the sun is out. Other days, it rains. And some days, Jed The Creepy Wankscrote at the beach hits on Penny the Barely Legal. And God weeps an existential tear.
Your humble narrator apologizes for the late Friday Thoughts and Links, my fellow travelers on the 'bag mocking and hottie gnawing pathways of life. I was in midair, having just flown to Boston, and thus spent the past five hours marveling at the lack of hott flight attendants these days.
I thought they all looked like Zooey Deschanel in Almost Famous. Guess not.
Here's your links:
HCwDB's legendary Vin Douchal composes an ode to 2009 Hall of Hott finalist Francine. "I'd still do you if you were a tranny, give you a reacharound while boning your fanny" for the epic lyric win.
Buy Vin Douchal's HCwDB Tracks on iTunes and support a dedicated 'bag hunter.
Kids are now lighting each other on fire with Axe Bodyspray. About time.
Ghetto Preacher He ain't worried, beyoch!
Jordano hopes for a "carrer" in fashion and modeling.
HCwDB gets cited in the footnotes of a peer reviewed academic journal. Academia must account for the potency of the cultural critique and deconstructions of the signifier offered by Hottie/Douchey dialectics if there is to be any accounting for the culture industry in the transmedial age.
The future Queen of England, Katie Price, wears Ed Hardy while riding. Off with 'er head!
Piano Chat Improv Guy justifies YouTube. But not Chatroulette. Which is stupid and creepy.
The great Billy Zabka has a cameo in Hot Tub Time Machine. For those into 80s John Cusack comedies, check out my trip to Lane Meyer's Better Off Dead house, back in the halycon days of the site, 2007.
Ed Hardy teams up with Lindsey Lohan. To spread crotch itch both literal and figurative.
Props to Yep Yep for acknowledging HCwDB's trailblazing role as the first of its kind.
As does blogger Johnny Utah, who give HCwDB proper credit in the 'bag mocking timeline.
Mos Def on Yo Gabba Gabba teaches the kids about the positive effects of drugs.
And finally, for all your hard work once again, I give thee not one, but two quality ass pears to carry forth unto Shabbat:
Coquettish Pear. Bashful, with a touch of coy. I would nibble lightly, and with pensive antipathy.
And Off-Off-Broadway Pear. More entertaining than a Neil LaBute play about misogyny's corrossive effect on the modern male.
Go forth, fellow mockspians. Go forth and ferret out Grieco Virus, in whatever form you find it. For the weekend is atwixt and upon and apear. And it is good.