Friday, April 16, 2010
Friday Thoughts and Links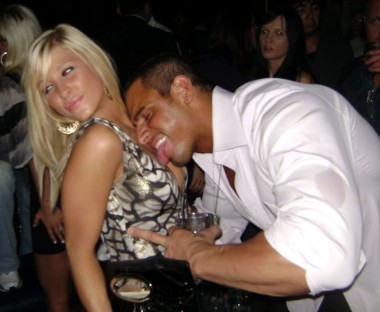 Another solid week of 'bag taunting and female gender form admiring, props to all for the great and hilarious 'bag hunter and huntress comments in the threads.
Your ambiguously alcoholic narrator finds himself pedantic and lugubrious on this sunny Angeles Friday. Although I'm not quite sure what pedantic nor lugubrious means. Which might explain only get a 600 verbal on the SATs. Stupid SATs. If Laurie Glatzer hadn't sat in front of me showing 3/4″ ass crack, I would've gotten at least a 620.
I await and away with baited respiration and expectant lasciviousness for a season 3 pickup for my TV show. But wait, I must. For the powers that be consider and consider.
So I muse on what mathematician Fermat once described as "The Holy Boobie Curve Ratio:" The perfect ratio between texture, bounce, firmness and distance to belly button. Or, as Fermat theorized: 3.1415gnaw.
That's all the math you really need to know to explain how the Egyptians built the pyramids.
Here's your links:
HCwDB parking lot frolicker and hat tilt extraordinaire, the douchey Bobby Batz is still out there. Still ritalin enhanced. And don't forget Bobby's Shoutout to all the Haters out there.
Dolphin Beach Tan has the perfect logo for irony even Alanis Morisette could understand.
Speaking of douchey tanning: Sunblast Mobile Tanning. For when you're too lazy to even get up off your ass and seek out a choady glow, the douchexperts come to you.
The Tralfamadorians, with their crazy alien language, love HCwDB. At least as far as I can tell.
Bert Blyleven would like another take.
Okay. You've been waiting for it. Today we go with abstract expeartionism.
What? Not enough?
Okay, have some Cityscape Pear.
Go forth und mock die douchen. So sayeth your narrator in his best German accent.