Friday, April 23, 2010
Friday Thoughts and Links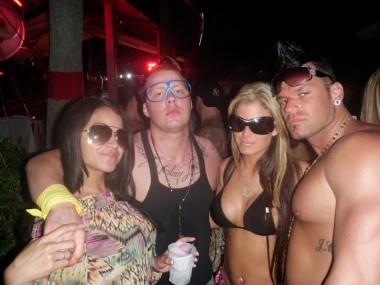 Yup.
I've said it before, and I'll say it again.
Some week we mock the 'bags. And some weeks, the 'bags mock us. And some weeks, even the hotties are douchey. And we all start drinking.
Here's your Friday Links:
Where do you find Douchebag? Between bitch and ho.
Large Chicks with John Mayerbag.
Some days I like to contemplate the great Kantian shift in understanding subjectivity and the limitations of human consciousness. Other times I like to contemplate Kitty Boob.
Tanning beds might be addictive. In an unrelated story, so are tasty gummi bears.
Kumar gets mugged on the way to White Castle.
Ladies and gentlemen, Timmy Gaga. From the Disney iconography to the overweight confusion of overstimulated childhood, all that is wrong with America encapsulated in one YouTube clip.
Terminal Lance, a military inspired comic strip, mocks the doucheyness of Ed Hardy. Semper Fi, good Sirs!
In Denmark, there's a bar shaped like a rectum. Where you go to get wrecked, um. I apologize for that last joke.
Band vs. Promoter. A story of life, love and the indie music scene. Totally epic.
Great video games Hall of Fame: 1987's Police Quest. Where Helen Hots lived fast and died young.
Okay, enough of the random links that helps me relive childhood innocence (and I'm referring, of course, to the rectum bar). Here's what you've been waiting for.
Here's what you've earned.
Begin "change of fluid" jokes… now.
Go forth. Go forth and celebrate. Another day of living. Another day of life. And another day of pear.