Friday, April 30, 2010
Friday Thoughts and Links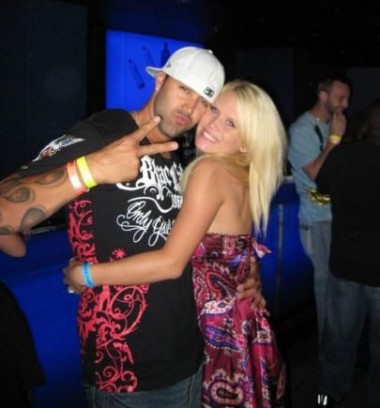 Another excellent week of 'bag mocking and hott lusting, as we settle into the new site layout. Gold tatt stars to all.
Fellow 'bag hunters and huntresses, it is 2010. The mock is moving into global influence. Your important work is beginning to turn the tide.
If you haven't already, you can create a profile on the site by signing up here.
Also, you can follow your humble narrator on Twitter. And join the Hot Chicks with Douchebags Facebook page, which I didn't actually create and aren't sure who's running it, but hell, it seems like it's one of the regs so I'm supporting it.
Me? I gots me a bottle of the quality Mogan David stuff. A DVD of vintage Peter Davison Doctor Who featuring Who's hottest companion of all time, Nicola Bryant as Peri (mmmm… more Who era Nicola Bryant, and more)
The 'bags are safely mocked into a state of collective emasculation. The hotts are objectified in reductive and Pavlovian ways. The chaos of life has been classified, quantified and processed nicely via the simulacrum for the week, giving us the illusion of order in a bleak and existential universe.
Here's your links:
There are many types of douchebag. But there is only one iconic template for Jerzey Guid. (warning: HCwDB cannot be responsible for eye gouging after viewing that pic)
Hey Chive writers, I appreciate all the "inspiration" you keep drawing from my site, but could you at least toss a brotha a link when using my site's name in your headline?
Friend of HCwDB, the sexy Suzie McCoppin is gettin' her blog on by asking why DJs get so much ass?
HCwDB legend and Closet of Poo enshrinee, Cheeto Man finds Love with Celery Woman. (warning: Pic is worse than the Orange Jerz Guid, HCwDB takes no responsibility for viewing this pic)
In politics, Goldman Sachs to utilize 'Douchebag Defense'.
Retro Hipsterbag Origins: Gary Gnu from "The Great Space Coaster"
Eagle-Eyed reader Alex tags a "Bags Jag." Which is redundant.
When white boys douche it up to rap in their dorm rooms for the camera, we'll be there. To laugh at his pasty ass.
Douche Glue. For when Crazy Glue doesn't get the hair pointy enough.
Now that's some effen vodka!
Okay, enough of the other links. I know what you want. And for all your hard work, you've earned not one, but two pears for this evening's festivities.
First, I give you Step Pear. Whose perfect ratio of curve defines 3.1415.
And secondly, I give you the oily pat bottom perfection of:
Go forth, friends. Go forth and bongo.