Monday, April 19, 2010
HCwDB of the Month
Our first Monthly in the new redesign. Bring it. Lets do this. Four couples of hott/crudst. Only one may make the Yearly.
If you haven't registered on the site yet, log in here. And read Steve L.'s instructions on how to set up your avatar image here.
Here's your Monthly finalists:
HCwDB of the Month Finalist #1: Jed the Creepy Wankscrote and Penny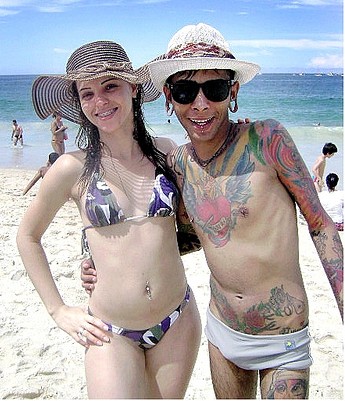 We may not always enjoy the HCwDB couples we must witness.
This is one of those times.
Jed is pure creepy. And wank. And scrote.
Penny is barely legal, sweet and innocent.
Jed is the reason poets kill themselves.
Together, we find the toxicity of a Weekly HCwDB combination. The hint of a backstory that involves child brides in Bangledesh, robot wars in northern Sumeria, and a tatted up bounty hunter who definitely cannot make the Kessel Run in less than twelve parsnips.
Yup.
It's Monday morning. Your humble narrator is babbling like Hollywood babble on.
HCwDB of the Month Finalist #2: Joey Lipps and Tina
Classic Jerzwhack in presence of boobie suckle thigh are Joey L and Tina from Kappa Kappa Woo.
We celebrate this pic for its lips douchery.
It's boobie curvery.
And it's pink balloonery.
And lets not forget Nipple Rubbing Party Guy in the background. That touch of surreal WTF always elevates an HCwDB pic.
But does Joey and Tiny bring enough taint to win the Monthly? Is Joey yearly douche? Does Tina's potential douchebaguettery detract from true toxicity?
The voters will need to parse the distinctions and flush the crapturdtions.
HCwDB of the Month Finalist #3: Meaty McMeaterson, aka Antonio and Vanessa
This was the Weekly in which there wasn't a vote because your humble narrator was snagged in technical snafoolery.
That being said, Meaty McMeaterson, aka Antonio, and Vanessa, are worthy classic Jerz Pudwankery and curvy boob grabbery. They represent all that this site was formed to mock, and well earn their place here in the Monthly.
Vanessa is curvy gum snapping Long Island Iced Tea yes please. She's wrong, but it's okay. Because taut, taut thighs, and a societal double standard.
Boardwalks are to poo mugging as potato chips are to guys named Brian.
Inseparable.
And if you think the DB1 is making no sense in the text portion of this Monthly, you'd be right. I blame a late night involving a rowboat, my sax, and Bach.
HCwDB of the Month Finalist #4: Freddie Von Gimp and Brenda
Our fourth coupling is a nice counterpoint to our Freakbag and Jerz Poo finalists. Here we find classic skeezy hipster crud macking on a delightful "I'd graze on her clavicle" gnaw boobie.
The dress-up douche is a newer and troubling element of choadal strategy. It aligns itself closer, but not exactly, with Hipsterbags, as the counterpoint to classic Jerz fistpumping wankfoolery.
I may have already mentioned my extensive infant-like gnawing and suckling on Brenda's clavicle area.
If so, I apologize. I'll only be another minute of gnaw.
Then I will retire to the boudoir where I will repose with a glass of sherry and a book on Tantric yogurt.
Yup. Definitely making no sense. That's why I need your help.
Which coupling deserves its place in the Monthly, joining Stackhouse and Grillzilla in the Yearly?
Don't just sit there. Vote something.
Vote, as always, in the comments thread.