Wednesday, April 21, 2010
HCwDB of the Month: Jed the Creepy Wankscrote and Penny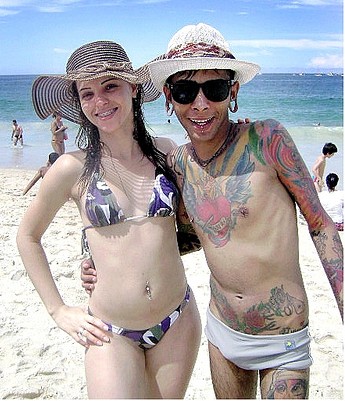 I thought the toxicity potency of Freddy Von Gimp and the glorious Brenda would take the prize this week, but the singularity of Jed's monstrosity mugging the innocence of Penny was too much to ignore.
The voters speak:
Douche Dastardly: It was a difficult decision between Jed and Freddy.
Freddy has all the makings of Stage 3 douche-baggery but Jed is the kind of hunger strike tatted douche monster that is so grotesque that you feel he is not part of the douche lexicon. He is a sort of on the fringe scrote. But what if this is just the first findings of a new variety of douche? Then fellow baghunters we must adapt, For as the douche evolves so must we.
boatbutter: Jed. Even the nightmares of the late, great E. Gary Gygax aren't as disturbing.
Miss Anonymous: I rarely cast a vote on these, but a monthly has special meaning. And by monthly meaning, I mean that Jed has the negative power to make women's menstrual cycles go out of whack from their monthly regularity.
Istandouche: Now that Jed's made it this far, he deserves to be among the candidates for the Yearly.
creature: Jed is the ass you can never wipe properly… he just stays gooey with poo & continues to eat your drawers
douchelips: Jed and Penny however, take it to the next level. He is the creepiest thing I have ever seen on this site. The tats, the 'Lord of the Rings' Gollum-esq style, and WTF…are those earrings on him or are his earlobes really stretched out that far!? Penny is purity in braces…is she 14? Is she 19? It's hard to tell, but the pierced bellybutton says…oh yes, I'm legal. And seeing as how she's being mugged by the creepiest thing to ever crawl out of the swamp, she gets my vote.
The Last Douchefighter: Jed and Penny, no question. I can't remember seeing anything on this site nearly that revolting. Seeing it made me want to crawl up inside my own ass and die.
Whoop-di-douche: JED is so, just so SICKO a douchebag, you have to ask yourself, "Did he wash up on our shores from some deep-trench where truly prehistoric, gruesome and still undiscovered species lurk?" Alas, no. Which makes him even MORE gruesome.
Doucheasaurus Rex: If this was the 11PM edition of Douchecenter, we would be saying about Jed, "You cant stop him, you can only hope to contain him and his myriad of STDs.
Charles Nelson Douchely: I'd vote for Jed if he were posing alongside Rosie O'Donnell. He is that scrote-y.
Scotediddilyumptious: It waaantssss ussss to vote for hiisss ppescioussss! Jed and Penny FTW!
Chad Kroeger: Nothing more can be uttered about Jed the reject from Barbie Atlantis that King Poseidon has not spoken to. Penny has the youthful look of Ariel from The Littlest Mermaid and her pale supple skin makes me weep with guilt. There has not been a more unnatural coupling on this site.
Peter Ilyich Doucheovsky: The coupling of Jed and Penny is toxic nuclear waste for ocular cavities. Excuse me while I go Oedipus on myself.
RAPETIME: Jed is what I always dreamed the Morlocks from H.G. Wells' "The Time Machine" would look like. I'll bet he can absorb human blood through his fingertips. Penny could pass as one of the Eloi that would comprise his dinner, if we were casting the made-for-TV version of Wells' novel and didn't want to spend a lot of money.
Indeed, while Penny's age is troubling, that may be the point of the pic's disturbing HCwDB combo. And as we watch Jerz Pudwackery mutate into these new forms of body sculpting primitive tribalist douche, we must be vigilant with our mock. Brenda and Freddie Von Gimp came in a close second, and will likely appear at the 2010 Douchies.
Fatness: Brenda could make me go to church. Freddie could make me commit a deadly sin.
Dr. Bunsen HoneyDouche: Freddie and Brenda FTW. Why? Because you know he has every book Barnes and Noble has about picking up "chicks". He's read them like they are his religion and he's finally got his schtick down. Brenda, the poor doe-eyed nymph, doesn't read and thinks he's edgy.
Evil_Redheaded_Stepchild: For matching his lip gloss to his faux pocket square–a move surely heralding the future of douchery–I nominate Freddie. As for Brenda, she obviously needs to cuddle with me on my couch in the dark for a film retrospective of David DeCoteau movies, so as to fully inform her hitherto dubious system of standards. And so I can fondle her naughty bits.
Justin: Freddy and Brenda for the win. He makes my blood pressure skyrocket. His style is so cheesy and contrived, with the guyliner and the hair…..ugh. I would so love to punch him. Brenda is near perfection.
uscrascal: freaky freddy and big boobs brenda, ftw!!! any guy that wears makeup and colors their mohawk is auto-bag, grade A douchetastic.
Claude Douchenberg: I am going to have to through up my arm hi and tight waving my hand and vote for Freddie Von Gimp and Brenda. Jed adorns his body for his own self gratification. If a hot falls for it then more power to him. But Freddie is working it, not for his own pleasure but working it to get the hots.
Coming in a solid third and fourth, respectively, were the boobal power of Joey Lipps and the classic Jerzwhack of Antonio and Vanessa, which also features boobal power:
Douches Wild: The only other viable contenders in my smut-addled mind are Joey and Tina. Joey embodies the delusional state of a mega-bag, the blissful state in which you are incapable of considering your own ridiculousness. Tina is a high priestess of the Ethereal Realm of Bazongas, and thus a cosmic law unto herself and all her acolytes groveling in awe and supplicant
bigphatnottadouche: Antonio and Vanessa for the monthly. All I can say is Boobies and bra reveal is good.
end the haberdouchery: Joey Lipps and Tina FTW. Because I still haven't been able to look away from those beautifully pressed together breasts.
jonezy: it is Joey Lipps. Why? Boobs. Wonderful, motorboatable Mammarellograms.
doucheywallnuts: Meaty McMeaterson, aka Antonio and Vanessa for the win. "Classic Jerz Pudwankery and curvy boob grabbery," trump the frightening freak show of Creepy Wankscrote and his hideous paramour.
bigphatnottadouche: Antonio and Vanessa for the monthly. All I can say is Boobies and bra reveal is good.
Indeed, and excellent points all. But Jerz Douche seems to have reduced its shock factor these days, as mutant douche overwhelms. Lets let Baleen take us home:
While Freddy has the classic stylings of douche that this site was founded on, we as hatters must not forsake the continually morphing modern moldy mutations that represent the future of scrotewank. Enter Jed. Chum bucket for the ages, chafey gravy, and overall septic discharge from nether orifices. Juxtapose that with Penny who is all baby fat, braces, and ignorant innocence. Unbleethed, we see her just before the Fall- the nexus of mock.
As much as I'd like to forget the image of Jed, I predict he'll have a stab st the yearly. Jed ftw.
Good work, team. I was surprised, as I thought Freddie and Brenda would win. But the power of freak was too strong to overcome. Jed and Penny for the Yearly. And the DB1 for a bowl Cinnamon Life and a morning HoHo.