Monday, April 26, 2010
HCwDB of the Week
This week's selection of buffet-style schroad/hott involves classic douche/boob cohabit. As such, it's a pretty tough choice. Here's your noms:
HCwDB of the Week Finalist #1: Crayon Gary and Simona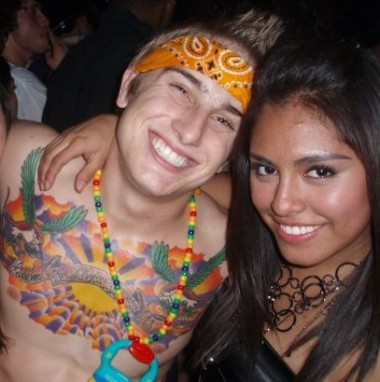 C.G. is a perfect illustration of hottie/douchey dialectics.
As Marx explained in his inversion of Hegelian power structures, class and societal fracture, the circulation of douchebag meaning becomes amplified when in the presence of quality boobie suckle. The tainshmeg can only define itself by that which it shmegs its taint on.
And that tatt, real or not, is uberpud.
I'm working on a theory about the act of body marking, primitivity and the split in the psyche between the real and the virtual causing a need to reinscribe the body through marking.
But that lecture is for another time. Today is the Weekly. And Crayon Gary is punch worthy, while Simona asks me softly and in a lilting voice to massage her thigh muscles with chicken fat and a soft boiled egg.
HCwDB of the Week Finalist #2: Flex Luthor and Jennifer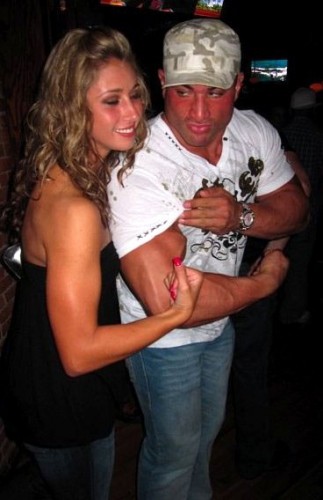 Flex Luthor hatches his grand scheme to capture Boobiewoman!!
Okay, enough with the comic book riff. Cuz I was a Green Arrow fan, myself.
Flex Luthor brings classic roided up Jerzbaggery. And dammit, classic Jerz poo still rankles me, even if in the age of "Jersey Shore" it seems less mockworthy than it once did.
And lets not forget Flex and Jen's Beefy #2.
Flex and Jen used to be that classic Jerz Douche / Hot Chick combo that fueled the site.
But in an age of ear and chest scarring, giant ear holes and Jed The Creepy Wankscrote, maybe we cannot un-see this next generation of douche.
And Jennifer is delightful purity drinkable leg water.
HCwDB of the Week Finalist #3: Melanie and the Suckerfish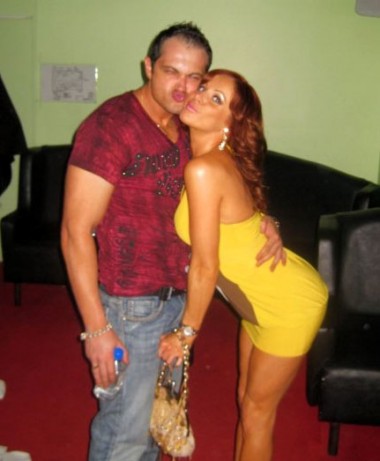 Melanie rounds out the third of our three quality of H.C. sides of the hottie/douchey equation with curvy aplomb.
And by curvy aplomb, I mean, well, curvy aplomb.
I would pooch. And lick. And then tap dance.
The Suckerfish is an exploding head of douchewankery.
He deserves mock for the face. The hair. The shirt. And even by looking at a pic, we all know that his feet smell like gouda.
Together, they make poo.
(Dis)honorable mention to Militia Max, who, as Wheezer so rightly puts out, features Meghan from last June's Kitchenbag. Meghan loves her Jerz Douche beefy. Also (dis)honorable mention to the KFC Scrotal Melt Sandwich and the hilariously clueless Crowdbag.
But them's your three.
Now I turn to you. I want you. I need you. To pee on their rug. Which tied the room together.
Vote, as always, in the comments thread.