Tuesday, April 27, 2010
Aussie Rules Footbag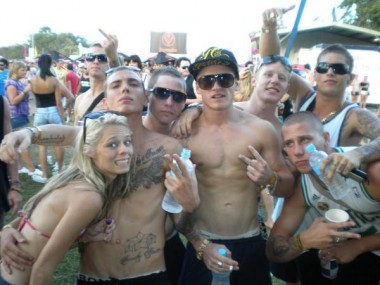 Robin writes in from Queensland, Australia, to tag a former employee:
—-
DB1,
My one time apprentice Sean posted this photo up tonight.
He always had the potential for douche while working with me but we kept in under control, it seems since he has been left to his own devices the douche has blossomed!
Love from Queensland, Australia,
– Robin
—-
Mmmm… I see you, cute little lithe blonde Oz Bird trapped in a scrum of Axe Bodyspray wearing dingo turds. I would listen to you talk about "taking the piss" out of your annoying brother, without making fun of your accent. Then, while you were busy buying a microbrew at Cochella, I would briefly erotically fondle your leather purse you bought at a yard sale in Brunswick by massaging it with my right palm.