Monday, April 26, 2010
The Minibra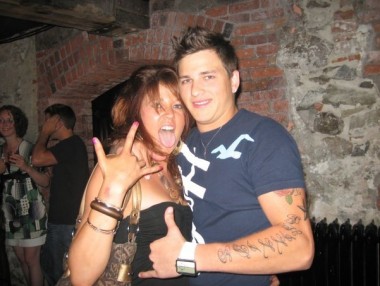 Carrying on in the tradition of HCwDB legend and joyous consumer of tasty cola products, the immortal Bra!!, The Minibra brings arm tatts, ginormous watch, and happy demeanor to his mugging of Bleethy 'Baguette, Rachel.
The Minibra is a minimal but solid stage-1 bottom rung douche. The arm tatt itself would be enough to qualify. But it's the hand gesture + watch-strap that take him over the edge from pud to 'bag.
Sadly, Rachel is a swirl of Sorority Mess herself, sadly lost to the ways of choad.
Which would all be understandable if this wasn't taking place in a 14th Century Conquistador torture chamber meant for Mayan heretics.