Thursday, April 15, 2010
Xenu: Lord of Scrotentology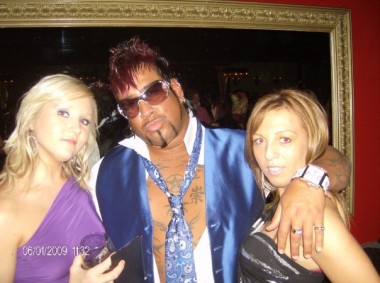 Often, 'bag hunters will email me and ask me about our hallowed Hall of Scrote legends.
"Surely these people can't maintain their intensity of scrotological burn as they chase hotties?" they ask me. "Don't Hall of Scrote legends burn out?"
Were that it were so, imaginary conversation person.
Earlier this week we checked in with Joey Porsche, just as douchey as ever. Today, it's Hall of Scrote legend Xenu. Classing it up with the barely legal hotties by puttin' on a matching tie and coat.
You go with your formal self, Xenu, Warlord of Scrotentology. Your people look up to you from their clarity tests and know you are level-8 poo.
And I see each of you, powdered bottom girls from Dusseldorf. You knew not what Americans were like until you visited on your summer exchange program. And now you curse Western hegemony. But it's too late.