Tuesday, May 25, 2010
Celebrity HCwDB of the Month: Emmy Rossum and Adam Something Or Other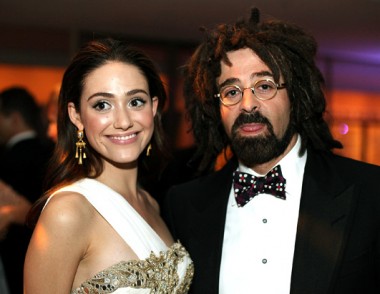 Twenty four year old actress hottie Emmy Rossum is the latest prime celebuhott to be mug fondled by aging, portly talent-lacking rocker hipster douchus, the not really famous non-icon of the Clinton years, Adam Duritz.
Now I know what you're thinking. Who's Adam Duritz?
Yes. The answer to the question Who's Adam Duritz is "Yes." For the question is its own answer, as the Daoist Monks have tried to teach us.
Back before 9/11, America was lazy and bored, and listened to blankly generic slacker crap by bands like "Hootie and the Blowfish" and "Counting Crows."
Adam Duritz may or may not have been involved in one of these bands.
And while it's true that the man's run through quality Hollywood hottsicles in the 90s was legendary, so was his serious commitment to rank clownbaggery.
No "Rockstar Leniency Rule" at work here. The man is mockworthy uber-choad. And Rossum is semitic librarian hottness.