Friday, May 21, 2010
Friday Thoughts and Links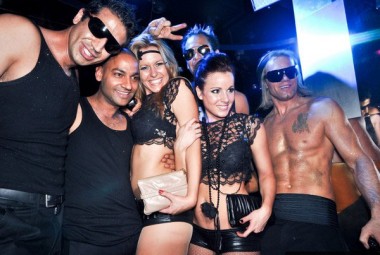 Another solid week of 'bag mocking and hott lusting on the site, and thanks to all who checked out my appearance on the Adam Carolla podcast. I should do more of those things.
This Friday finds your humble narrator vaguely confused, overstuffed on New York pizza, and wandering the lower east side like a confused Coney Island whitefish.
It's not official yet, but it looks like my show might be getting another season, so I'm happy and festive and looking forward to future douche mocking in a variety of vertically integrated media formats.
But until then, we mock on on HCwDB.
Here's your links:
HCwDB in the News: There's a shout-out to HCwDB on page 9 of this month's Harper's Magazine in the article on Sarah Palin (subscriber link only).
The Tecktonik Kid. I can't tell if he's a future douche or kind of awesome.
There are Woo Hotties, there are State School Woo Hotties, and then there are Arizona State School Woo Hotties.
Reader DooShnozzle catches 'bag ads during a Florida baseball game.
And speaking of baseball tags, longtime HCwDB 'bag hunter MC 900 Foot Douchebag goes to a Yankee game, tags an uber Jerzey Guid. And again.
The inventor of the Chipwich, perhaps the most important invention of the 20th Century other than the Flowbee, has died.
Welcome Back Kotter's Carvelli was all kinds of awesome. Even if a bit retro-douchey. I'll have to meditate on this contradiction.
Speaking of proto-douches: Hefty Smurf.
If she wanted Donkey Douche's name tattooed on her arm, she should've been prepared for the PAIN. (warning: annoying female tattoo freakout sounds in that clip)
When the sum total of all of the advancements of 20th and 21st Century technological innovation are tallied, there will be only one justification above all else: The ability for people all over the world to watch Deer Versus Fat Guy.
Okay. I know why you're here. You want your payoff for another week of quality mock. Well, you've earned it. Here ya go:
Not enough?
Okay. Have some fur pear too.
Because I care about you. Now go. Drink. Be merry. Mock a choad. And fondle a thigh.