Wednesday, May 26, 2010
HCwDB of the Month: Lint Diesel and Curvy Carrie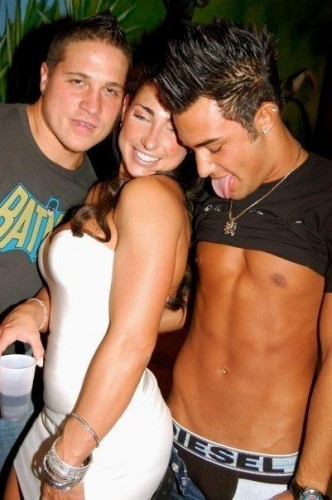 Just barely edging by the power of Oldbag Bernie Schwartz, the Lint took the prize in one of the toughest and most evenly matched Monthlys in awhile.
The voters speak:
Mr. White: I'm going with Lint Diesel. She's saying, "Who's going to pee in my butt?" and Lint is ignoring her to lick his own nipples. 'Nuff said.
The Baggernaut: Lint Diesel… for wanting to lick his own cod piece despite the insane HOTT before him. A disgusting display of UBER choadism and worthy of the monthly and an auto-in for the yearly if you ask me.
Snoop Douchey Douche: Lint. You gotta give extra points for originality. You keep calling yourself "dawg" enough, how is licking yourself that far behind? Sad but sincere prediction: Ed Hardy "dawg collars." They're not just for your pit bull mix anymore, yo.
Architeuthis Dux: Lint is about to look even more like a fool with his pants on the ground. Give it to him. And by it, I mean both the monthly and a shock collar for Dobermans with which I can unleash nonlethal but potentially crippling doses of electricity.
Legedouche: Lint Diesel, by way of Curvy Carrie. Because if it shaves like a douche, and tongues like a douche, it's probably a douche.
Merle Baggard: Lint. He's hoping that if he licks himself he'll taste like a creamsycle, but reality will be more like bacon grease.
dbBen: Lint Diesel. These guys have a million reasons that they're not douchebags or that the db life is acceptable. I only need one reason to tattoo a scarlet DB below your navel, and that reason is GSR.
Douchesquire: Lint Diesel and Curvy Carrie FTW. After a weekend trip to the city of brotherly scrote, and having my eyes burned by the sight of so many classic Guido-douches, I am in a full on rage regarding douches of that ilk.
Amerigo Vesdouchey: Lint shows obvious signs of severe narcissism; not uncommon amongst the 'bags, but his is an especially nauseating case. Note the unbuttoned pants GSR and attempt to fellate himself. And curvie, buxom Carrie is in just the kind of state I like: intoxicated and ready to make some poor decisions. Unfortunately she found herself next to the likes of Lint. Favreau is so not money and doesn't even know it.
Fyodor Dostedouchesky: Lint FTW. He's got an inebriated, feral hott and most importantly he is classic club douche.
Whoop-di-douche: LINT, Carrie and Pimpin' Jon. cuz I SAY SO!! She's so damn hott, hurricanes use her for refueling their storm surges.
End the Haberdouchery: Lint Diesel FTW. Simultaneously taking off your shirt and pants for a party photo makes you about as classy as Christian Audigier's tiger, skull, and rose covered bidet. Carrie is delicious, although clearly encourages ass-hattery.
Et Tu Douche: I have to go with Lint Diesel & Curvie Carrie for the win. He encapsulates the whole DB spectrum from the 2 earrings in one lobe, to the GSR, unbuckled pants, chest reveal and most importantly his narcissistic behavior in the presence of such a curvy boozy Hott.
doucheywallnuts: Lint Diesel FTW. Breaking out a new douchebag move – the "Self Lick" – is reason enough to give Lint my vote, but Lint also brings some classic douche cred to the table in the form of the hair, clothes, groin shave, bleeth and jewelery. Lint also offers the underrated – or even ignored – douche accessory, "the non-douche loser side kick."
Good call, doucheyw., that's two innovations worth noting. The power of orange groin shave reveal and a curvy boozy bar wench, plus the bonus of drunk Jon Favreau, was too toxic to defeat, and a well deserved slot in the yearly. Coming in a close second, Bernie Schwartz and Kendra:
The Reverend Chad Kroeger: Old Bernie has earned his spot in the monthly by breaking his covenant with the god of Abraham and consuming all the smoked porch beef in New Jersey. As I type on a beautiful Memorial Day, Ezekial weeps and sweet Moses in heaven is breaking his tablets again while l enjoy a banquet of Manechivitz and potato knishes. Bernie is pure poo anf the fourth horseman of the douchepocalypse.
Baleen: gotta go with Bernie the Oldbag because even though his nutsack is hanging low these days, it takes some special cojones to rock the spooge-proof Members Only hazmat jacket and mandanna when your pushing fifty. Juxtapose this with Kendra's girl-next-door smile, scent of Noxema, and bubbley handwriting, and you've got yourself a monthly
mr.reeve: I vote for Bernie the 80sbag. Bernie's white mandana, white break dancing zipper filled jacket, bad facial hair, gangsta signs and orange skin are just too strong for me to ignore. Plus Kendra is all natural hottness. American Pie hottness and Bernie is pure American Club Scene Douche
Chris in 'Baghdad: I am sure many will say that Old Bernie cannot run with the young 'bags, but Kendra is sunshine and apple pie with a bit of Hustler Magazine hiding just underneath. And Bernie is what Samurai Scrote will look like at age 44.
justadouchalo: In the name of equal opportunity, Old Bag Bernie gets the win for answering the question, "What would Bob Dylan look like if he gained 100 pounds and dressed like douche bag?"
Bernie looks like a leading contender for a 2010 Douchie Award, and Kendra is drinkable Hott Tea with lemon. Coming in a solid third, but perhaps losing due to Cameltoe Fatigue (the desire to never see it again is quite reasonable), Night Oranger's power chord:
Indiana Choad and the Temple of Douche: I must go with the Night Oranger and Chrissie. The others bring bile to the throat, but the fact that they chose their outfits to coordinate with the club's (biggest club in Tallahassee!!!) lighting puts them over the edge for me.
Bagnonymous said: sister Chrissie has been growing on me like an infectious, boner-inducing fungus. Meanwhile, the Night Oranger has caused a burning sensation when I pee–and it looks like Tang®, too.
uscrascal: you really can't beat the eccentricity of the Night Oranger. spray tan, wax chest, package hugging white pants, and jerry curl… what a combo!! definitely, FTW!!
my friends call me @$$hole: Night Oranger cause if i gotta' see a picture of his cameltoe and not hers i'ma' be pist, we gotta' keep an eye on these two till we get to the REAL pics of Chrissie no matter how much it may hurt…
Mr. Biggs: Night Oranger. Fresh young adventurous hott trapped in a young pile of pure taint … it is a coupling like this which is the cause of all the other couplings you see below. If the young hotts didn't fall for douchebags like NO, there would be no men constantly pumping iron at the gym in the hopes of getting the hott.
Paul Muad'douche, the Kwisatz Scroterach: Orange Ranger has a dream. It is a dream deeply rooted in the tradition of American douchebaggery. He has a dream that one day, America will live by a new credo, one of groin shaving and mandanas for all. Orange Ranger has a dream that one day, in the pool at the Mandalay Bay, the children of Ed Hardy-wearing meatheads and the children of patchouli-reeking stonerbags will be able to sit down at the bar of brotherhood, and slip roofies to girls in the same batchelorette party. Orange Ranger has a dream that one day his children will live in a country that judges them not by what color of orange their skin is, but by the content of their male camel toe.
The Ranger will definitely be up for "Orangest Orange" in 2010. And in a solid fourth place, the classic Jerz Guid of Flex Luthor:
Big Tony Ventresca: I vote for #4, Jennifer and Flex Luthor, because he's wearing eye shadow, which automatically catapults him into the lead in my book.
woj: He has passed years of time in in the ego inflating environment of the "gym" picking up on 'cougs, spotting other bro-bags for squats, and harassing poor innocent girls like Jen (look how she mocks him to her friends). his douche attitude is literally ingrained in every ounce of muscle on his body. there is no hope. He is greater than the others.
Anthony LaBaglia: being short and Italian, orange-red in color, flexing muscles at an inappropriate time/place, hanging out in an establishment with a thousand fucking t.v.s, some kind of studs sewn into the aforementioned gay shirt, camo indoors at night, dick-sucking lip expression… Phlex FTW.
Düsseldouche: i can´t believe jennifer and flex are losing that badly, they are definitely my choice.. jenn´s right arm is alright with me, while flex´s right arm, well, does not look alright. although i´m more worried about his bursting head (or is detonating head the right word? me not from us and a, sorry…)
Classic Jerz Douche these days just don't carry what Bourdieu describes as "Cultural Douche Capital," in the wake of televisual Jersey mock. This month, it's the Lint's time to lick into the Yearly. Lets let ehcuodouche take us home:
Gonna have to go with Lint in the monthly. The rest of the candidates give their picture a center of focus. Flex gets you to look at his guns, Bernie has the fantastic pairing of leather jacket and face. Night Oranger has the Cyndi Lauper theme music. But in Lint's picture I don't know what to look at. "Whoa, groin shave reveal." "Look at the cans on that bimbo." "What is wrong with that dudes' face?" "Is he licking his own tit?" "How does she fit into that dress?" "No seriously does that guy have any teeth?" "She's totally gonna get date raped." "Ugh, and the pants are already unbuttoned." So, Lint, for destroying all possibility of coherent photographic composition with his douchiness.
And there it is. Great work to all who voted, and while you didn't hear it from me, my show just got picked up for a third season! So lets celebrate with tasty HoHos. And we'll see Lint, Carrie and Douchey Jon Favreau at the Yearly in December.