Monday, May 10, 2010
HCwDB of the Week
An interesting shmorgasboard of smoked 'bag on the menu for this week, along with three quality hott pockets. But whom shall pass and whom shall be mock?
Here's your finalists:
HCwDB of the Week Finalist #1: Groin Shave Reveal Greg and Kimberly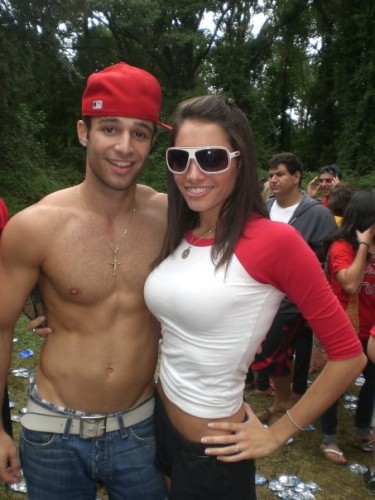 Bringing beboobsification to the table in large twin helpings of flesh manifest, GSRG and Kim are real-world HCwDB toxicity. Not megabag. But the kind you went to summer camp with and watched make out during s'mores time and before lights out with the hottest girl from Senior Bunk.
But is Greg truly douchey enough to hold up his side of the boobosity?
Shirtless, blingy, with groin reveal and hat tilt are all douchey traits.
But Greg's non-threatening. Harmless. Just a wanksta pud. Hardly an uberdouche. Can we call him a Weekly winner?
We can if we consider Kimberly.
Boobsy boobsouous sonorous fondle fondle.
HCwDB of the Week Finalist #2: Buddy Holla and Peggy
Buddy Holla brings a strange mix of tattfreak and nerd to the Weekly.
Peggy Sue brings potential librarian zombie spank gameplay to the H.C. side of the ledger.
And no, I have no idea what a "librarian zombie spank" would consist of. But I know it'd be naughty. And involve radishes.
A Buddy Holla and Peggy vote for HCwDB would mark a continuation of the 2010 veering of spectacle into the age of what we call the "Carny 'Bag."
A "geek" in both senses of the term.
And Peggy Sure is naughty laundry girl. Her shirt smells of Febreze and that top shelf premium Woolite detergent.
Like a Seals and Croft summer breeze, she makes you feel fine. Rolling through the canyons of your something something.
HCwDB of the Week Finalist #3: Lint Diesel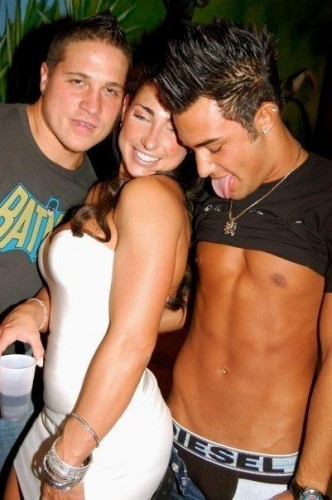 Curves + Drunkeness plus Orange Groin Shave Reveal = Weekly Finalist. But enough to emerge as Weekly winner (loser)?
While Jon Favreau pimps Iron Man 2 in the retro Batman t-shirt, Lint Diesel busts his game. He is so not money and he does not even know it. He's like the douche in the rated R movie.
But I am not here to make gratuitous Swingers references.
No, not even in the Age of Enlightenment.
I am here to give you three Weekly HCwDBs to vote for.
Now you must make your choice. Which of these three deserves a slot in the HCwDB of the Month?
(Dis)honorable mention to Fruffy Pants, and the perfection of gnaw that is Party Girl Helene, who both just missed the cut.
And, of course, we all hailed the ubersquat that is Pumpito. Who even without Hot Chick deserves HCwDB appreciation for filling both roles with his giant man boobs.
If you haven't created a profile yet, move it beyoch, and then vote for your candidate in the threads. Or you can still vote anonymously if you must
Lots of votes makes your humble narrator happy.
Vote, as ever, in the comments thread.