Wednesday, May 19, 2010
HCwDB of the Week: Night Oranger and Chrissy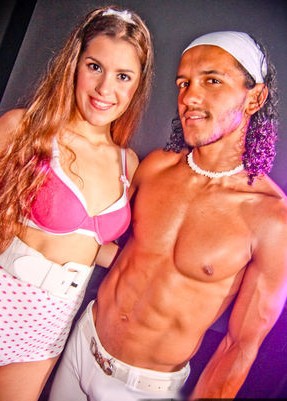 Monday's contest was a very even vote, with all three of our finalists receiving the support of hottie/douchey mock. But the absurd camel toe of Night Oranger's package and Sister Chrissie's sweet smile and lovely gnaw shoulders were too toxic to overcome, just barely beating out Yo Jimbo and the Kuyuko Girls. The voters speak:
Amerigo Vesdouchey: One word – male camel toe. (okay, three words)
scrotum pole: The Night Oranger's greasy, pube-like ringlets sicken me almost as bad as his camel-toe and stubbly groin-shave.
Conversely, Chrissie conjures up an image of Mary Ellen Walton in a Depends under garment. Which, I suppose is appropriate and somehow strangely erotic.
Jimmy: Going to have to go with the Night Oranger and Sister Chrissie. This greased jerkoff looks like Jimmy Superfly Snuka mated with an Oompa Loompa. The DG belt really brings the whole outfit together and brands him douche worthy for the weekly. Chrissie on the other hand is a very natural looking beauty, just the type I like. I don't get so enraged when the hott in question is a Bleethe, but this comely lass appears to have no traces of the virus.
Douche Boyardee's Cheese and Bagaroni: Night Oranger and Chrissie get my vote. Seeing Male Moose Knuckle and GSR brings upon me the same reaction as to when the people of South Park read "The Tale of Scrotie McBoogerballs". Uncontrollable, violent vomiting.
Vinny Scumbaglia: Night Oranger and Chrissie get my vote, for poor lighting, excruciating color design, most hot-points-deducting outfit on a hott, and,. of course, best douche cameltoe.
DarkSock: Night Oranger looks like a 2nd rate European gay porn actor who decided he'd pattern himself as Kenny G-Spot, blower of various skin flutes and meat whistles and Dong oboes.
Scroberto Baggio: Night Oranger. The one-man Milli Vanilli of our generation.
Chad Kroeger: As a newly ordained minister in the Universal Life Church I must spew my drunken wrath at Night Oranger for taking Sister Christian away from her candy striper duties at Our Lady of Fatima Medical Center and Gentlemen's Club..
Mr. Biggs: only Night Oranger has the seriousness and dedication to be a true douchebag. He looks like he came up with the look while coked up and talking to the Costa Rican bouncer at a VIP lounge.
The Blessed Scrotini: I'm voting Night Oranger. When you have to pop the douche strategy from 25 years ago (Jheri Curl, tight pants, headband) just to score the hott, you don't just know douche — you ARE douche.
Maxim Kovalenko: Night Oranger. Male Camel Toe and GSR ruin my day, and my lunch.
Jacques Doucheteau: Night Oranger. His hair is so greasy that BP has a $40 million 5-phase response plan and Riser Insertion Tube Tool prepared for the next time he goes swimming in the gulf. That, and moose knuckle. Crissie makes me question my aversion to girls from Tuscaloosa trailer parks who hide their navel.
Hong Kong Douchey: Night Oranger FTW. He reminds me of the Rico Suave guy. That's all I'm going to say about that, 'cause I'm definitely not going down THAT road.
Indeed, HKD, the Suave is powerful in that one. A worthy victor (loser) and well parsed like a camel toe. Coming in just barely in second place, the manga-bag of Yo Jimbo and the Kuyuko Girls:
Count Douche-a-La: Casa La Douche cast it's vote for Yo Jimbo and the Kuyuko Girls. Axl Rose gave up that look in 1990. We are pleased to see that someone picked it up out of the dumpster and gave it a new home. And by pleased we mean horrified!
Snoop Douchey Bagg: Since I someday want to be reincarnated as a cute Asian girl, I must vote for Yo Jimbo in the hopes that his type will be eradicated by the time my reincarnation occurs.
Dex: It's not that Jimbo is anything new, because he isn't. And it's not that the Kuyuko girls are super-hot, because they aren't. This image is simply a paragon of everything that is annoying. You can smell their stink, poorly masked by Axe body spray and Japanese perfumes, illegal in most countries due to anti-whaling laws. You can hear his ridiculous Jerz accent, and the glass-cutting squeal of the Kuyoko girl's chitter-chatter.
Ultra Bagnus: Yo Jimbo simply dominates the taint-fest this week. So much so that it frightens one poor lo mein hot, and gleefully amuses another. Yo Jimbo knows how to douche it out! I think he may have combined every possible known douche accessory into one catastrophic collection of scrote.
Et tu Douche?: I select Yo Jimbo and the Kuyuko Girls. Asian Hott has always intrigued me and there seems to be something naughty going on in both of their eyes. Yo Jimbo has all the adoucherements with his mandana, cock ring second belt, ab reveal, groin shave reveal, fingerless gloves, sleeveless denim etc. He is everything douche and thus deserves the win.
Well sushi'd, team, and good luck with your reincarnation plan, Snoop D.B. Yo Jimbo's east-scrotes-west shamefulness almost pulled out the win. And with solid support in third place, the subtle toxicity of Nicole and her Cabbage Face:
teh_abominable_snowdouche: my vote goes to Nicole and Cabbage Face. All the candidouches are scrote taint sap. And to me, Nicole looks the hottest. I just get the feeling that there's something there we're not seeing. You know? Like a perfectly curved teet or something. Anyhow, Cabbage Face FTL.
Doucheperado: Cabbage-face. Obviously. The white tuxedo jacket, the D-neck shirt, the faux-hawk and that facial expression that's just begging for an overhand right. And, oh yeah, he's the only 'bag this week with a bona fide Hot Chick.
Baleen: Now Cabbage Face. Here's an fine expample of sheer stupidity. A modern bagling who was raised on X-Box, Taco Bell, summer detention, and cheap inhalents. The Hott is heroin chic and he's the black tar under the rim of my toilet bowl.
Mr. White: Nicole is sweet innocence. I want to fire a shotgun round point-blank into CP's chest and tell her to "come with me if you want to boink." Then we'd run off and make pipe bombs in a rural motel, punctuated by bouts of tender love-making.
Peter Ilyich Doucheovsky: Gotta be Cabbage Face. The sunglasses and Chest Shave Reveal are enough to make me want to punch a puppy in it's newly formed gential region. Little violent? Maybe. It's been a weird couple days, and Cabbage looks like a cast member of Miami Vice: The Musical!
Good call on the musical, PID, and I'm pleased to see the Cabbage Face receive some support given Nicole's quality hottness. But this was Night Oranger's time to blight. Lets let Lord Grace Doo Doo of Squatingham take us home:
Night Oranger all the way, not because he looks like one of the guys who used to carry around a ghetto blaster on his shoulder at my local park in the 70's… not because he looks like the "Head Spin" stand in for Shabba Doo Quinones during the filming of "Breakin'" and certainly not because he made a forturne selling his natural shiny, greasy auqua velva smelling excretions to Johnson Products as the secret ingredient in Afro Sheen but simply because of the stark contrast of the Hott to this Twaut
Excellent work everyone, well mocked, parsed and categorized. Night Orange and Chrissie get the last slot in our upcoming HCwDB of the Month on Monday, and the DB1 off for a New York bagel. With a smear.