Wednesday, May 5, 2010
HCwDB of the Week: Old Bernie Schwartz and Kendra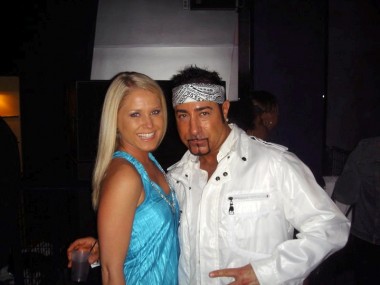 In a close race with the odious Jack Skullington, the tri-vag chin pubes of Oldbaggery and tasty blonde innocence of Old Bernie and Young Kaylie were too strong to overcome. The voters speak:
doucheywallnuts: Bernie Schwartz. When in doubt go with the douchebag wearing the Members Only jacket.
curbyourendouchiasm: Bernie Schwartz because 'pathetic and old' is waaaay underrepresented here on HCwDB in the weekly and the monthly. I know there's representation, but it's thin, we need to flesh it out, and this greasy tool is a really good way to do that. My man should be at his (grand)kid's soccer game or something.
opie sardonicus: Gotta be Old Bernie and Kendra ftw. Bernie's geometric spray-on trident of "I can be sold ANYTHING" hair takes one's focus away from the rest of his pudgy presence. A mixed blessing. And Kendra is fetching in a generic blondy-with-dark-roots bad girl way. But this is Bernie's show, no mistake. He reeks.
Douche Dastardly: Some are born douche some achieve doucheness and then there are those that regress back to douche. From grown man to poo. Bernie was your average man with a mortgage once. But that all changed the day he put on that first Ed Hardy shirt and transformed himself into the wrinkly poo before us now. Designer jeans masking old balls… Sigh
Scroberto Baggio: Old Bernie Schwartz. Although I sincerely hope, that it's just Dustin Hoffman using method acting to portray the most sad and tragic onscreen character of his career.
Peter Ilyich Doucheovsky: Seriously, Bern? A Paisley mandana? And what the Hell is up with the zippers everywhere? In the words of Senor Chang from "Community," "Dude, even I know you're lame – and I'm a tenured professor sitting in a bean bag chair."
dicy: I'm going to go with Old Bernie Bag and Kendra. His chin pubes haunt my soul and Kendra is just oh so sweet.
Jimmy: Gotta go with Old Bernie and Kendra. She is angelic hottness and he is 40 year old recently divorced douche who just got a new makeover from his gay buddy Bruce
Architeuthis Dux: Bernie and Kendra illustrate the ultimate dichotomy in age, physical appeal, and ability to incite my desire to engage in one or more of the seven deadly sins.
Vin Douchal: Facial hair doesn't sprout out like this on it's own. It must be conceptualized by a shameless puff with little regard or awareness of how ri-goddamndiculous he looks. And it's ri-goddamndiculous make no mistake about it.
boatbutter: Bernie. As he gets older, the high school girls stay the same age.
end the haberdouchery: I vote for Bernie. Justin Timberlake aged like fine wine. Joey Fatone apparently aged like mayonnaise in the sun.
baleen: Bernie FTW, because oldbags never die, they just douche away. Of course, anyone with the balls to don a Hazmat jacket in the club deserves at least a bitch slap an so goes my vote.
mr.reeve: He's so bad he's good. Bad 80's jacket, way too hot blonde on his arm and mandana. I wonder if he's wearing white pants too???? You know what they say about white pants…….
douchesquire: OBS and Kendra. For the Members Only jacket alone, he should win. Add the mandanna and trifurcated chin pubes, there can be no other choice.
Mr. Scrotato Head: Bernie for the win. If you put the effort into making a coat out of your own sperm you'd look that pruney too.
Indeed you would, S.H. And I'm glad some classic oldbaggery won the Weekly. Saggy nads need to represent. Coming in a close second place, the turd blossum of Jack Skullington and Kaylie.
Claude Douchenburg: Skullington went to the crossroads and never looked back. His doucebagness, like his tats, will never go away, only fade. But Kaylie, OMG Kaylie, push away, push away the Jackdouche, break his weak embrace and come to me.
gooliano: At first i was thinking bernie, but after noting the Mercedes Benz tatty on skullingtons arm, he wins hands down!
Chris in 'Baghdad: Jack Skullington is twice the bag and, unless appearances lie, twice as stupid. Which is always a nice plus. And Kaylie has that "come hither and do nasty things to me" look that is hard to ignore. The full mandana framing cro magnon low forehead sort of round it out for a piece de la resistence. Jack Skullington, Jack!
Skullington may have appeared on the site before, but a renewed chance to mock his ass does the world a service. Well said, team. Coming in third place, the arm douchery of Sperm Edwards and hottness of Trish, who may actually be Kendra:
bagnonymous: Trish is completely adorable–I wish she'd hug me like that. (Though I'd have to turn to the side a little bit so she wouldn't feel my stiffy rumbling about.) Meanwhile, Spermy-E is infected with all sorts of smug baseball-bat-to-the-face clownishness. We must make sure that the smegma-tadpoles swimming up his arm die a fiery, yet disinfecting, death before being unleashed upon sweet, porcelain Trish.
douche scroets society: The choadface Sperm Edwards gets my vote, An exemplary example of douchely scrote, With that kissy lips face, Ed's not lacking of charm, How could he not be with sperm tats on his arm?
E-blo's Last Thought: Sperm and Trish for the strain they put on my paycheck and psyche for the remainder of the day.
Scrote Douche-N-Harmony: Sperm Edwards and Trish take this one, best explained in a stat line of Douche Pose Avg./Gear and Tats on Douche Pct./Hott Hotness Plus Evident Love of the Douche. Sperm and Trish are hitting: .354 / .440 / 1.015
The stats don't lie, SDNH. But this is Oldbag's week to shine. Lets let Chad Kroeger take us home:
I think an Aristotelian explanation of the philosophy of douche signifiers is in order this week. Mandana's = hat tilt. Shiny jacket=tat sleeve x 2. Hand signs=bar bracelet=wrist stap. Sperm isn't trying too hard. Oldbag is trying way too hard. Skullington is already a known nazi douchebag.Blonde=Blonde>dirty brunette.
Bernie Schwartz's chin pubes and age inappropriate behavior make him a tragic hero. As Aristotle spoke of Bernie in Poetics.He is poo.
Well philosophized, C.K. In the immortal words of Ted "Theodore" Logan, all we are is dust in the wind, dude. Chalk up a rare Oldbag and Aryan Hott for the Weekly. And the DB1 for coffee.