Monday, May 24, 2010
Sarah's Prom Tag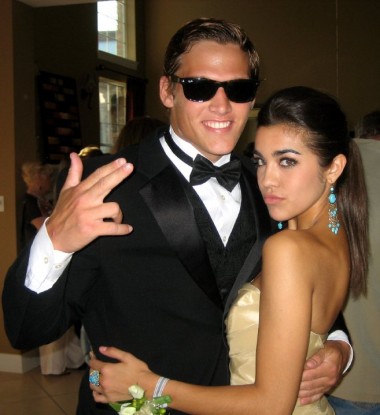 Sarah writes in with an excellent prom tag of a Tuxedo Douche:
—-
My best friend, Meg, is dating this guy whom i don't really like that much. He proved his douche-iness at prom this year, with this gorgeous photo.
– Sarah
—-
Good catch, Sarah, as "Chad the Business School Bound Asswipe" is all sorts of underserving and annoying.
And I must add that your BFF Meg is fireworks-in-the-uvula classic shoulder gnaw worthy butt grabby operatic fondle hott.
I would hang glide naked, greased up only in chicken fat and whipped cream, through a misty Andes mountains during an electric storm just for the chance to briefly sniff the used brillo pad her great aunt Beatrice once used to scour a metallic stove.
She is delightful. And deserves better. By which I mean me, awkwardly handing her the remote after brief and vaguely unsatisfying coitus left her pensive and moody.