Friday, June 4, 2010
Friday Thoughts and Links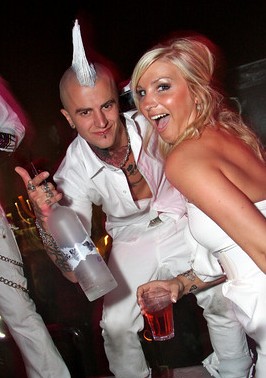 Today I ponder whether, in this, our second year of economic recession, the display of the uber-douchey choadscrote has taken on a desperate, out of time, affect within his spectacle.
When I began HCwDB in 2006, garish spectacle and narcissism by overspending preening tools chasing the ladies was part of a desperate end-of-days orgy of consumption that was prevalent in every corner of our society. But even worse, it was humorless, desperate and the result of the schizophrenia of mass media overstimulation.
Has our culture shifted? Has the shared illusion, the indulgences of our culture of selfishness and consumption in the 00s finally been broken by the harsh realities of check-out time and a bill from the concierge?
I'm not sure. But the douches are still everywhere I look. And the hotties have still not learned to make wiser humpty hump choice. So we carry onward until dawn.
With some tasty Hostess Apple Pies for your hungry narrator. And a sip or three of the Night Train. In an Ubiquitous Red Cup, natch.
Here's your links:
An example of 'bag culture today, an eagle-eyed reader snags a Kohl's Ad featuring Ab Reveal.
If you missed the embedded link above, here it is again, as it must be seen to be believed, and then mocked: HCwDB legendary pud and late night parking lot frolicker, Bobby Batz finally finds a few hot chicks and creates Douchepocalypse: The Movie. (Beware "Crazy Glowstick Hottie." For her maintenance is high.)
Philips NorelCo targets the growing Groin Shave Reveal market.
Confused language scholars debate the meaning of "I peed in a horse once."
HCwDB of the Week non-winner The Star Blazer wears zebra pants.
Old Bag, look at your life… your head's a lot like Skeletor…
Reason to believe in Vishnu and Ganesh #541: Librarian Hotts.
Jennifer Love Hewitt embraces the Ass Pear.
Best show on Broadway right now: Next to Normal. See it. (on a related note: American Idiot was ass)
Some days I enjoy tasty Hostess Twinkies for breakfast. Other days, a microwaved Pop Tart. And other days, I simply gaze into the existential abyss.
And what stares back at me?
and
And Jesus wept salty fuccen tears for all that ass pear he never got to fondle. Go forth. Go forth and spread the gospel of HCwDB. Because that's what your great grandparents at Ellis Island envisioned when their name was misspelled by a drunk and surly Irishman with a badge.