Friday, June 11, 2010
Friday Thoughts and Links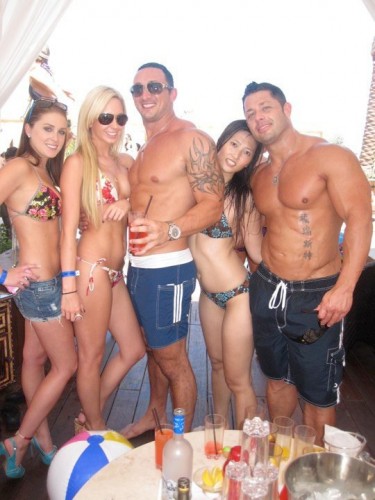 I contemplate the Chinese letter ab tatt on this friday, and wonder whether the giggle hotties really know that it stands for "Beef with Broccoli." Which, of course, is what Vinny named his weenus.
Yeah, I just used the word "weenus" in a post. Because "Cockmonstrous" is currently being taken over at Perez Hilton. And we blogs gotta ration the terms.
Ahhh… Friday.
Season #3 of my show is official, and my new book proposal is about to go out. Times are good for the age of douche mocking.
However, your humble narrator has had an especially poor diet this week consisting of cookies, alcohol, Hot Pockets, alcohol, tasty Hostess Sno-balls, alcohol, and, for nutrition reasons, chicken pot pies. Health food is for suckas.
Here's your links:
First up: The douchiest shirt in the world. Price: $1098.00.
The Jizz Singer. Still out there. Still taking iPhone bathroom self portraits.
And don't forget to follow The Jizz Singer on Twitter for highly stimulating conversation. Doug, he so fresh.
Narcissistic preening suckwad, the uberdouchey John Mayer, is still proving he's a douchestain.
File under "Captain Obvious:" The Jersey Shore is a Herpes Nest. And to think, I gave the world "Snooki." I may never work off that karmic debt.
David Mamet's Lost Masterpieces of Pornography is strange, amusing and bizarre in all the right ways. It almost makes Funny or Die seem worthwhile. Almost.
Et tu, People of Walmart? Not even a link to me for borrowing the title? The internet is a silly place.
Ben Roethlisberger overtakes Jeff Reed as biggest douchebag in the NFL.
Speaking of Jizz Singers, there are many things one should witness in a life well lived. At the top of the list: Neil Diamond in blackface.
As to Laurence Olivier, I refuse to consider anyone in the conversation for greatest actor of all time who puts out performances as shite as this. Tom Cruise as Les Grossman performed in less offensive Jew-face. And DeNiro never needs to apologize for Rocky & Bullwinkle again.
Okay. You're not here on this Friday afternoon for the DeNiro clip. You're hear for your reward after another week of quality 'bag mocking and hott lusting.
And here it is, in honor of the World Cup:
Or, as the Europeans call it… Footpear.
And for those who don't like Soccer or care about the World Cup, head on over to the beach for…
Never say I did nuthin' for ya. Now go out there, and if you're a 'bag hunter, save a hottie. If you're a huntress, mock a douche when he hits on you.
For it is Friday. And the weekend is upon.