Friday, June 18, 2010
Friday Thoughts and Links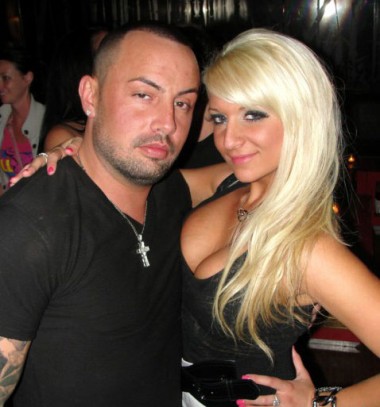 There's a million stories in the naked city of Angels and devils.
Crooked cops like Buzz Meeks and Ed Exley are messing with the kids in the Ravine as they move in on Mickey Cohen's traffic.
Bukowski wannabes hit the strip clubs and write stilted verse on cocktail napkins, while secretly hoping the job waiting tables at El Campadre will come through.
In-n-Out still only serves three items. But all three are delicious.
And your humble narrator sits on his veranda, feeds gnats to the venus flytrap, milks the alpacas, and gazes at the northern lights in wonder and appreciation for the gift of boobies. And of douche mock.
Here's your links:
Archie Comics pulls out its long running HCwDB subtext and finally goes literal, in a bizarre tribute to The Jersey Shore.
2009 HCwDB Douchie Award winning Oldbag of the year, The Leatherbag, is still out there, still shirtless and creepy. Even on Halloween.
Speaking of gay, shirtless and creepy, The Three Bromingos dancing, drunk at 4am may be the funniest and gayest clip three ostensibly straight Jersey douchebags could make. Warning: No Hott counterbalance. Do not blame me for retinal scarring. Hilarious fistbumps occur at 1:23.
Denis Leary rants about douchebags with wool caps when it's 90 degrees outside on last Friday's Tonight Show. Sadly, the clip got taken down, but here's June 6th's wool cap wearing The Loft Pud comments thread (see Wedgie's Brad Pitt reference and THEONETRUEDOUCHE and MC 900 Foot Douchebag on the wool cap when it's hot out). Coincedence? Perhaps.
Continuing the DB1's paranoid annoyance with so many comedians riffing in the HCwDB style, Triumph the Insult Comic Dog will hand out the Douchebag of the Year Awards on Sunday on Spike. Look for HCwDB to introduce "Victory, The Insult Comic Alpaca" in a future post.
Note to Hollywood comedian types: HCwDB is not open source. Please try to remember that. If you wanna riff comedic in the HCwDB style, simply give my site credit. That's all I ask.
Speaking of humor origins, via The Huffington Post, this brilliant sound test clip for Alfred Hitchcock's "Blackmail," in 1929 shows that Hitch invented the "that's what she said" joke. "Stand this way, otherwise it will not come out right… as the girl said to the soldier" for the win.
Real punk is still alive in the form of one of the most legendary and underrated bands of all time, still touring today, The Dead Milkmen.
And, of course, their classic anthem, Punk Rock Girl. If you don't got Mojo Nixon then your store could use some fixin' for the win.
Punk has always had humor, political satire and absurdist farce as the defining core of its performative anarchy. Never clothing or hair style. Understanding this concept is what separates the real from the bullshit.
Large Man goes to Club, takes hundreds of pictures with hot chicks, making exactly the same pose, becomes a douche through sheer dedication to craft.
Okay, it's Friday. I know why you're here. It's not for my writing. It's for Pear. And I'm feeling generous.
First up, the college life you didn't experience: Peek-a-Pear!
Second, a flashback to 1980s blonde Christie Brinkley no-tatt hottness with Pear Supply.
And, finally, because I care, Posture Pear.
Feel the curves of a life well lived. Enjoy. Repose. And reflect. For the mock is complete for another week, and this is your reward.