Friday, June 25, 2010
Friday Thoughts and Links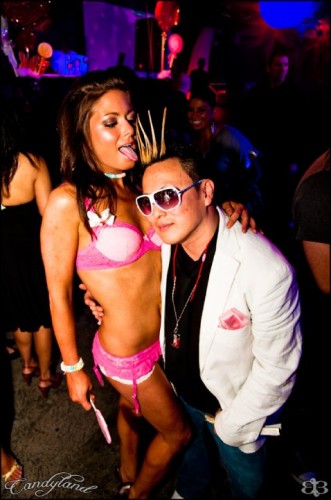 Hark! Your humble narrator is off. On the road, Dean Moriarity style. With a dash of P.J. O'Rourke. Headed for a sneak-attack covert ops mission to none other than Vegas this afternoon. Should get there by sunset.
A weekend of research for an upcoming project? Or an excuse to drink heavily away from the City of Angels in the Heart of Doucheness?
I cannot say.
But if I don't make it back, know that I met my demise in the following manor: It was Swifferhead, in the library, with the Axe Bodyspray.
Here's your well earned links:
Warning: Ubergay fistpumping ahead: The Guido Fistpumpers I linked to last week as The Three Bromingos, are still up to no good at 4am. Here's take two. Richard Simmons just watched this and turned straight.
Yet more riffs in the HCwDB style: Piece of Shit Clothing on Funny or Die.
Speaking of ubergay fist pumping, Old School D.B. Ryan Seacrest is still pretending to be straight.
Justin Ross Lee's Facebook photos self describe him as a 'Jew Jetting Whore' with 'Mileage Score.' Perhaps Stackhouse could hire him?
Academic studies continue to confirm that HCwDB is a social and cultural phenomenon grounded in genetic bias.
The scariest creature I've ever seen begins 1:28 into this YouTube Clip. Warning: Not for the faint of heart. "But I'd rather drink 'em!" = your humble narrator's sleepless and terrified irrational and primal night sweats.
And, off that creepy-ass commercial, what you've been waiting for, and it is quality.
That single pear is plenty for this Friday. Its firm haunches and prime glutes sing the praises of a moral and just universe.
And so should you. For the weekend is upon.