Monday, June 21, 2010
HCwDB of the Week
It's a Long-Island-Palooza of a weekly. Three very similar cuts of 'Island hott/choad. The last Weekly before the Monthly, as the summer holidays fast approach.
Bring it, Vuvuzela style:
HCwDB of the Week Finalist #1: Ronkonkoma Dave and Tangerine Tammy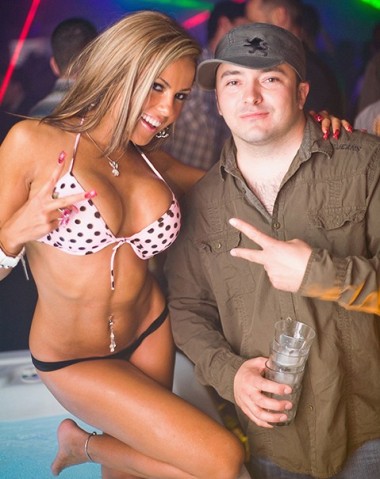 Dave works hard for the weekend.
Tammy likes to tan.
They don't leave their small town that often.
Because Tammy's gotta work the Tuesday shift at "The Clam Bake" by the shore, and Dave's busy bussing tables at the nearby Applebees.
It's a hard knock life. But they get by.
Except, every so often, when it's time to party. And Ronkonkoma Dave and Tangerine Tammy get their hottin' and douchin' on.
But enough to win the Weekly? That leads us to:
HCwDB of the Week Finalist #2: Troy Khan's Chest Reveal and Angie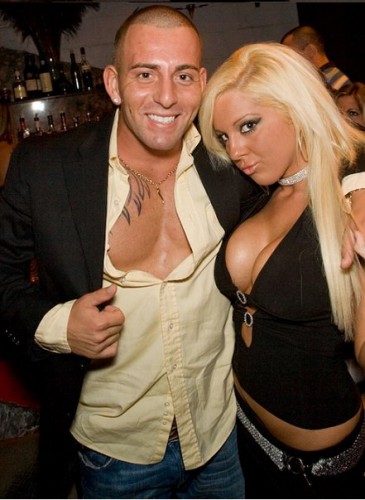 Khannnn!!!
Yes, it's true, Star Trek 2 references will never die. It is the Citizen Kane of the 80s. "Citizen Khan," if you will. A masterpiece of an innovation of a genius wrapped in an earwig. May it live forever in cinema history.
Troy is just your average chest-shave revealing superpud.
He is to be mocked and derided by Spock and Derrida.
Yup. No idea what I'm saying anymore.
Angie is our second trashy Island humpty-hump, but underneath that curvy objectified exterior, there's a sweet princess who just longs to be free.
And by princess, I mean large baby bagoombas.
Because I'm sensitive to the literature like that.
HCwDB of the Week Finalist #3: The Lake Crotch Cactii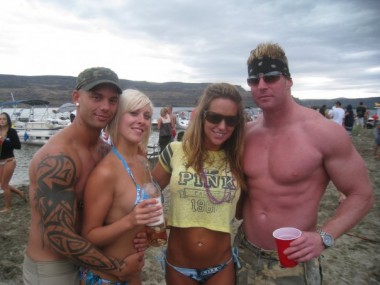 </p
Is Pink, Ruddy and Pumped Up enough to win an HCwDB of the Week? Jed and Barry, aka "Iceman" and "Goose," sure think so.
This pic has spike, mandana, and, the markings of true HCwDB, Ubiquitous Red Cup. On the right, The Iceman certainly has a strange, creepy inflated 'tude that is pure "douche aura." And Michelle is quality lithe gnaw. She certainly brings the coquettish Kelly McGillis in an inverted dive with a MIG polaroid smile to the game.
But can The Crotch Cactii win simply on the basis of secondary information, like Iceman's homerotic posing with his bros? Or The Iceman Finding Love on a boat?
Just missing the cut, Hurley Luncherson, who was just too happy to be a finalist (and Amzonian Reese Witherspoon just didn't bring the hott), the tough guy prom hilarity of Omaha Goes Gangsta, the blazing hottness of Natalie's Eyes, Dr. Jorge Mendoza for writing in with one of the douchiest emails of the year (see you at the 2010 Douches, Dr. Doza), and The Hebro, eliminated for being a pro-bag porn actor.
Them's your three.
Only one coupling is wrong enough to earn the Monthly. Which is it?
Vote, as always, in the comments thread.