Wednesday, June 16, 2010
HCwDB of the Week: Four Prong and the K Sisters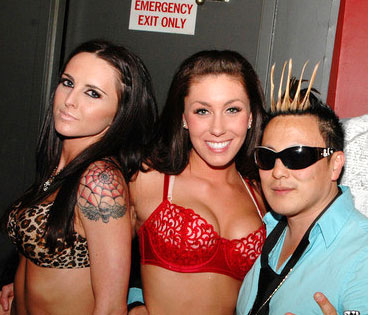 Some say 4 Prong is gender ambiguous. Others argue that there are five prongs. Still others note that Einstein's theory of relativity was incompatible with particle/wave duality. But that's not relevant right now.
The voters voted, and it was a solid win/loss of prongnostication. Seconded by Four Prong Plays Pool with Sophie. The voters speak:
Euripidouche: four prong, for bleaching the hair he intended to later spike, this is an evolved two step douche plan to look that phenomenally stupid.
THEONETRUEDOUCHE: four prong- he has the same black tie and solid shirt signature look- if you work that hard to plan out your doucherobe then he is the weakly
Cheesesock: I gotta go with Four Prong on this one. Two quality, bra-revealing hotts and an uberscrotewank with (yet again!) E-blo's jizm hair styling gel is the absolute embodiment of the dialectic of hottie/douche co-mingling.
tall guy: Four prong for the win. I mean, fair's fair: four prongs + blonde tips + those ridiculous fake jewel encrusted sunglasses. Add the untied tie and I think I need counseling. Besides, he's as close as he realistically should ever be to top shelf rack and all he does is pull a daft face. What a cockneck!
Hot Buttered Poopcorn: Four Prong has 2 hotts and has crowned himself prince of the douches with that stupid tiara-do.
massengill: I gotta give it to the Pronger. I loved the Ninja Turtles, too, but you don't see me coifing an ode to The Shredder on top of my head. No. You don't.
armydouche: gotta be four prong. his commitment to the hair is easily 4 times that of anything UFT guy does and in my humble oppinion out douches the hair of frong. i my be splitting hairs on that one… more time goes in to that hair than the average human spends eating and deficating in a week. Prong can also pull some tastey hott and therefore gets my vote.
One for the Choad: Four Prong by a country mile. The most punchable piece of poo this site has seen in many a moon. And I'd give a year's salary to unsnap Kassandra's lacy red bra and gaze upon the beauty that is her perfect breasts.
Musicman: I'm voting for Prong…he looks like the annoying douche who would like to tell you he has more money than you… Plus, I vote just to see more Kimmy and Kassandra…you gotta love Kassandra's smile…I went from 6 o'clock to 12 o'clock so fast!
SloppyJoe: I would mount Four Prong's head on my make-shift spear to hunt for saltwater fish in hopes of one last meal to keep me alive long enough for the K Sisters to rescue me in a raft made entirely from their used brasseires.
Accurate, deadly and prongy eviceration, well argued, team. The ambiguity of gender is confounded by miscounted prong power. And Kimmy's shoulder requires my suckle. More appreciation for Kimmy and Kassandra is needed. Coming in second, Unfin…:
Tudacious: UTG with his waterproof zirconian encrusted watch, his hat " that i'm sure if you switch some letters around" will say Asshat. He turns his hat around so nothing is covering his eyes and then wears no sunglasses WTF! I bet he forgets to hold his breath when he goes underwater.
Southern Scrotic: I'll have to go with Unfinished Tatt Guy paired with Unfinished Boobjob Girl. Their matching knotted strings make them the couple of the week.
Claude Douchenburg: I said it before and I will say it again, I didn't go to enough underwear parties in my day.
Deltus: Don't be fooled by his not mugging for the camera. UTG's got a dumb hat, a half-of-his-body tribal tatt underway, six pound watch, and oh sweet baby Jesus, he has nipple rings that I just noticed! UGH! Sandy brings the AGA (love that one, boss), and A-Game Ass (hmm, AGA squared?), and a face that makes the angels sing for it's sweetness. She looks fresh and unblemished, and his poo is going to infect her, and that makes my inner child weep.
End the Haberdouchery: I want to follow him around every second of everyday, blowing a vuvuzela until he blows his brains out with a shotgun.
Douches Wild: He is simian, dimly aware of others, redolent of assumed entitlement with a high slappability quotient. Sandy's modest boobage insures that she will go that extra mile to make sure his prostate does multiple back flips, like a precocious chihuahua.
Well argu. And coming in third, with solid support, The ginormous Faux and Boobies of Frong:
Bag Margera: I vote for Frong. Besides the hair, he has what is known as the douche-aura. The look on his face leads you to believe he is very proud of himself and his life choices. He expects us all to be impressed with his hair and his and his half-way hott. They look related to each other, and no, I am not impressed. Not. One. Bit.
Bob the Bag Hunter: Frong is the winner. Anyone guy that puts that much work into their hair is douche. Plus, those fun bags next to him look damn good. Frong is the WINNER.
Wedgie: I'm going with Frong because my kids like yugioh cards.
Frong represented, but this was the ambiguous gender and uncountable prongs, plus double bra hott K Sister time to shine. Lets let Peter Ilyich Doucheovsky take us all the way home:
My humble vote goes to Four Prong. Not only for the ridiculous hairstyle that has surely never been and never will be "rad", but because the K sisters are a unbelievable potent double barrel hotgun of fwap-ability. Even with that stupid Spider-man tatoo. I'd let her shoot my web. I'm not sure what that's even supposed to mean. Seriously… that hair is douche-tastic. And the sunglasses? Please, someone put him out of my misery.
The Prongster earns the next slot in the HCwDB of the Month. Good work to all who voted, and your humble narrator for a Honey Bunch of Oat.