Wednesday, June 23, 2010
HCwDB of the Week: The Lake Crotch Cactii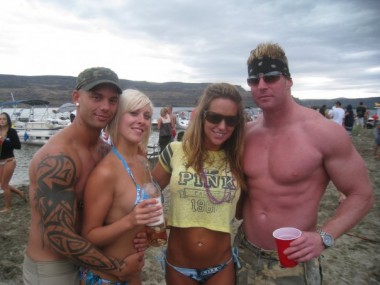 Are Jed and Barry, aka Iceman and Goose, simply creepy small town URC sipping fodder in Monday's HCwDB of the Month? Can Iceman Eventually Find Love?
Perhaps.
But for this week, their creepy muggings of Michelle and Julie were enough to take the win/loss. The voters speak:
RAPETIME: The decision this week was frighteningly easy. The Cactii are bringing swole muscles, lobster tans, six-pound watches, a definite hint of gaybaggery, and the ruin of modern human civilization in a package that would make Stephen King crawl under his bed and rewrite The Stand, replacing every reference to "Captain Trips" with "Grieco Virus", and rewriting the ending so that aliens would carpet-bomb the planet with fusion bombs, killing even the cockroaches.
James Roden: Lake Crotch Catii for the win. They've got it all, nothing more needs to be said. It's like they went down a douche checklist.
The Reverend Chad Kroeger: In the early 1800's a young botanist went on a journey to the Galapagos Islands. He identified 15 species of the Prickly Pear (Opuntia Cactaceae). Fourteen of which evolved from the original exhibiting sharp spines on the limbs and joints and adapting to their environment, their main predators being the iguana and tortoise. The fifteenth was abandoned due to lack of the technogies needed to explain its de-evolution. A major beakthrough followed many years later when a young entrepreneur and evolutionary biologist identified it as The Lake Crotch Cactii. It grew to over five feet tall with a lumpy and irregular shape, waxy spiked hairs to protect against its main predator HCwDB. Turning pink upon over exposure to the sun it is the most foul smelling of all the Prickly Pair sub species. It is thought that the spores of the original travelled to the British Islands where it was unfit to prosper and thrived once landing in the America's. Darwin weeps.
justadouchalo: That dying, low-tide smell that pervades Lake Crotch finds its source in the Cacti swamping the competition in a fetid tsunami of tribal tats, manhole cover timepieces, mandana, grease and a stubborn case of toenail fungus.
WheezerHCwDB: Let's lose that lovin' feeling and give the Weekly Top Gun to Iceman and the Lake Crotch Cacti, though I see Iceman on a future solo flight as he needs no wingman. So get on it and vote for them! That's right: Iceman is…..dangerous.
Medusa Oblongata: In the spirit of the hoarding I'm doing in the shadow of the looming apocalypse, I'm voting for Douche that comes in bulk. It's like going to Sam's Club and buying a ten-gallon jar of pus and Santorum. Very efficient.
Bag Margera: I always knew that if anybody actually liked Top Gun as much as my best friend's dad, then they must be Grieco-Era, Ground Zero Douche. This weekly only serves to prove that. While their hott's boobies aren't up to par with the other boobies, I would still rock them like a hurricane. Crotch Cacti for the win.
melvil duchi: I saw a couple of stage 1 douches at the beach this past weekend that reminded me of Iceman and Goose. they had arm tattoos and were fist pumping in the ocean( no music is needed, apparently). and they were drinking Busch Light.
Don't_Squeeze_The_Douche: Good god, is Lake Crotch Cacti in Louisiana? Has the oil spill made it this far inland? I see 4 examples that it has…and proof we can expect a generation of scrote and bleeth related side effects.
Mr. Scrotato Head: For proving beyond all reasonable doubt that Crayola could in fact successfully market a 64-color box set simply titled "Flesh", Lake Crotch Cactii for the win. Note to Goose, Strawberry tone is the new skin cancer.
Good work team, it was a Crotch Slide. And by Crotch Slide, I mean Valtrex. Coming in wayyyy in the rears, and by rears I mean Booty Bumpin' Frisco style, the Lawn Giland couplings of Troy Khan and Angie, and Ronkonkoma Dave and Tangerine Tammy:
Doucheblaster: I vote for doucehbag#2 because he looks like the UFC fighter George St. pierre and anything french is auto-douche. A contest of Douchiosity is a naploeanic conquest hands down(unlike ww I and WWII) everytime
ever present anonymous: All choads being equal, I'll have to vote by which set of boobies I'd most like to motor boat. The rack on Angie for the win. That makes Troy Khan the winner (loser) by default.
Sergeant Scrote Stain: It's Troy Khan by a Scottsdale mile. His primitive display of shorn chest muscles reflects his juvenile need for attention and his corresponding pay scale. Troy couldn't beat a deaf mute in a spelling bee, and for some reason, I like that. And by 'like', I mean, 'Angie has ample sweater meat'.
Crocodile Dun Douche: KHHHAAAAANNNN! To be honest, if he does up a button or two I'm willing to give him a notadouche pass. But its that skeezy reveal that gets him my vote. And Angie sweet misguided Angie, may I moar my boat between you bouys for the night?
Euripidouche: ronkonkoma dave and tangerine, tangerine with the curvy hips and the bolt-ons that rival michael bolton's studio albums for being overdone, and dave for being the classic douche who only has arrogant belief that his taste is the only taste in anything discussed worth discussing.
Mock Turtle: I can't get past Tony Khan. I've gotta go with the gut-feel. And by "gut feel", I mean "as it upchucks".
Et Tu Douche?: I'll go back to an old standby for Troy. If one were to walk in a bar, party, room etc and he was standing there with his chest reveal an immediate "what a douchebag would be one of the first thoughts that would run through ones mind. It looks like he has more cleavage then she does. That being said they get my vote for the win.
I thought both our second and third place finishers were pretty douchey myself, but whadda I know. Although we're in a quieter week as we gear up for an intense HCwDB of the Month before the July 4th holidays (and the DB1 drunk and in New Hampshire), lets let Pablo Sinatra take us home:
Lake Crotch Cactii completely runs away with it this week. I consider myself to have a pretty good vocabulary, but looking at that picture, I am completely at a loss for words. I hope they all stayed out in the sun for a few more hours, though.
Gold stars (not star tatts) to all who voted. And your scruff narrator for sugar cereals and Bosco.