Friday, June 11, 2010
Reader Mail: The Situation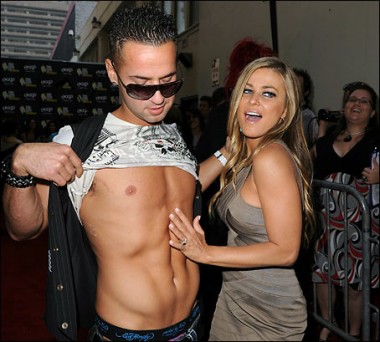 —–
DB1,
Attached find a pic of "The Situation" from Jersey Shore.
While reading an otherwise enlightening news story, this ass hat with his Hollywood (married?) hott appeared out of nowhere as an advert for the Washington Post. The news has been good from the front, but relying on this idiot to sell papers is enough to make a man start pounding malt liquor at 10 am.
And as much as the situation makes me want to slip into a fortified alcohol funk, I just can't do it. For the Germans shall surely come storming and the Republic must survive. So DB1, perhaps you'll post this pic and remind us who the real enemy is while we wait for some Friday pear and I'll keep the Maginot Line fuccen strong and post some snipers on high alert for any roving Eurobag.
Field Marshal Phillipe Petaint
—-
Good catch, FMPP. The Jersey Shore douchebags have reached a higher level of awareness than any of our HCwDB legends of scrote, but I would remind all that mocking douchebags on the other MTV show (the show that came first) is far more rewarding.
And by rewarding, I mean helps the DB1 pay for extra bottles of Mogen David quality fortified wine.