Wednesday, July 7, 2010
Ask DB1: Baby Tagging?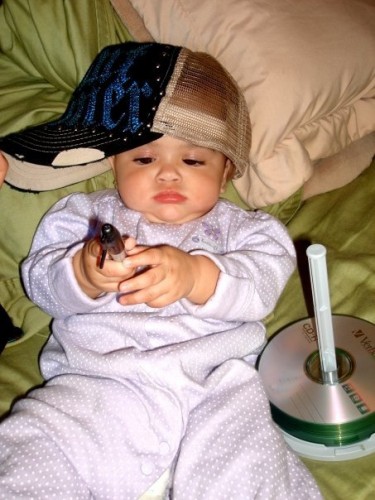 ——
DB1,
I just had a baby boy born six months ago (I'm a daddy!).
But now I'm terrified he's going to grow up to be some hip-hop wigga wannabe suburban douchebag.
If there are early warning signs, how can I spot them?
— Barnstable Colin
—–
Look for the clues, B.C., and they will be easy to spot. Ed Hardy pacifiers. Gangsta hand gestures during diaper changings. Mixing Grey Goose with his Gerber and milk.
If your baby is 'bag, you must wait for the toddler years to take any action. Rudimentary language skills are a must for treatment to begin.
Once your child has a basic grasp of English, you must immediately commence with sarcastic mocking and ridicule until he cries himself to sleep in existential angst.
Once you've broken his child spirit, creating lasting scars and resentment, you've completed the first step. Now you must build him back up by buying him as much British comedy on DVD as you can until he recovers.