Saturday, July 31, 2010
Ask DB1: More Nottadouches?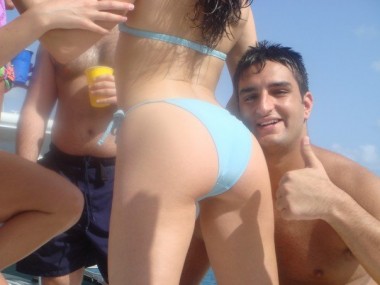 —–
Hey DB1,
First of all, I love your site. I check it everyday and it makes me laugh. However, I do have one grievance with your site…and by my grievance, I mean this out of great respect.
You often have douchebag of the month, douchebag of the week, etc….yet you do not have any nottadouche examples…As much as your site is funny, after looking at it, it can depress me to the point where Nickelback albums and Glenn Beck seem pleasant.
Perhaps a photo of a non-douche with a hot chick can restore some hope for baghunters..I feel the site would be stronger if there was even more balanced reporting.
Can you make a nottadouche of the week? This way, douchebags who view the site can see some examples of how to fix themselves.
Keep up the great work. C heers,
-Musicman
—-
While I do receive the occasional nottadouche with hot chick, and as hopeful as it can be, posting such false hope on HCwDB may imply the Grieco Virus plague is receding. And while our best efforts are slowing the tide and turning the 'Bag into an object of ridicule, the mutations continue.
Therefore it is the douche/hott coupling that we must continue highlight and mock if we are to have any hope of social redress.
But for you, I'll give you one. "Happy Kevin Finds Ass Pear." Complete with Rareass Yellow Cup. Good for Kevin.