Thursday, July 29, 2010
Biff The Bouncer 'Bag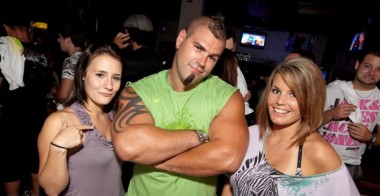 We haven't featured some quality meaty meat bouncer douches on the site in awhile, so here's Biff, working to pay off his parole one night shift at "Club Pure" at a time.
Even with 1970s porn star chin pube and tribal tatt, I kinda like Biff's self awareness, so I'm going stage-2. Douchey, but redeemable.
Mmmm… Courtney and Michelle. Middle age ladies should burn and rage at closing of the rope. So do not go gentle into that good VIP section. Rage, rage, against the fading of the tight.