Friday, July 23, 2010
Friday Haiku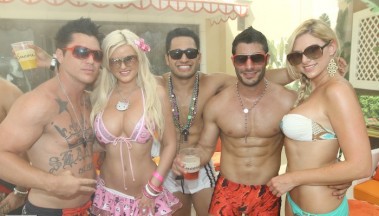 Thursday's Starry Blight,
Has gone Supernova Poo,
A Red Dwarf of taint.
Professor Neckbeads
Will not be deterred, no no
Will bang somebody
— saulgoode42
Somewhere in Japan
The original Hello
Kitty prays for death.
— Mr. White
On the count of three
Everyone give me their best
Anal rape grimace.
— Crucial Head
Standard template for
greased beaded double Big Mac
McDonalds sandwich.
— Bag Margera
If this is indeed
An Encore as cups suggest,
Glad I missed the show
— the douche is alright
Air is thick with haze
from bodyspray and B.O.
Do I smell tuna?
— Bagnonymous
Poolside in Vegas
Five friends live large. They'd better.
Break's over in ten.
— Mr. Scrotato Head