Friday, July 9, 2010
Friday Thoughts and Links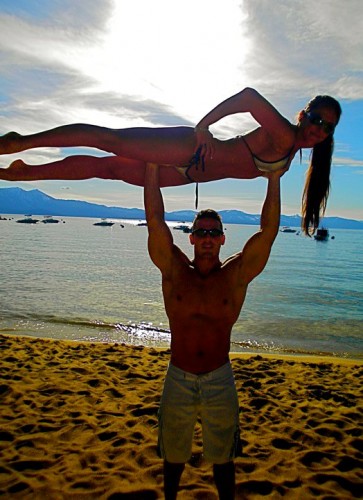 A quiet post July 4th week of hangover here at HCwDB, but things are rapidly firing up for Monday with a nasty smackdown HCwDB of the Week vote.
Your humble narrator is back in the city of Angels, freshly shaved and shorn and smelling like petunias. Or maybe that's just sweatsock.
Season #3 of Is She Really Going Out With Him? begins shooting in a few weeks in Boston and Scottsdale. And your humble narrator is prepping a new show and finding artful ways to scratch his nethers in public.
HC1 even created an account and may pop into the threads from time to time, so keep a lookout. Times are good. And the weekend is here.
Here's your links:
HCwDB's own 'Bag Huntress extraordinaire, Dicy takes a self portrait, causes telescopic ground erections.
Reader Captain Lame notices a new North Face sleeping bag campaign targeting douchebags, does some creative editing to bring out the subtext.
Manny Manuel proves the old addage: Never trust anyone with two first names. Who is also a scrotepud.
Former reality T.V. mill grist, John Gosselin, attempts to cling to fame by getting increasingly choadier.
Ferrari Guy For Hire. Uhm… yeah. Lets just move on.
The Jersey Shore cast continues to try to sell fist pumping as ironic and self aware. Yeah, and Leni Riefenstahl was just a filmmaker.
That's right, kids. A Leni Riefenstahl reference. Find that over at The Chive. Actually, if you wait a few days, you probably will.
Proving that Hip Hop and the Crisis of Masculinity in the age of deconstructionism are creating scads of purported heterosexuals in acts of extreme homoerotica, The Brothabags Go Dickslanging.
A little Asian Librarian Nerd Hott makes the world a better place.
Douchebag Bathroom Self-Portraiture moves from trend to full-blown viral infestation. And more. And yet more.
But you're not here simply to mock Douchebag Bathroom Self Portraiture. You're also here for the Pear.
Here ya go, a triptych of art pear:
And finally, Shakespear.
In honor of Shakespear: Butt soft!! What light through yonder thigh cheek breaks? It is the east, and Juliet has glorious glutes!
Go forth, kids. For the weekend is uponst.