Friday, July 16, 2010
Friday Thoughts and Links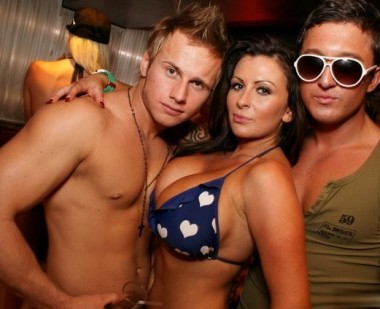 Oh those Europeans are a wacky bunch. First The Dreyfus Affair. Now this.
Your humble narrator is pleased with another quality week of mock, and props to all the 'bag hunters and huntresses who fill the comments threads with daily genius. Your humor and cultural deconstruct bring A-List mock to the world. And what more could Jebus want?
I sit. I scratch my toesies because they itch. I enjoy a tasty Hostess Twinkie and microwave some Trader Joe mini-pizzas. Because I'm healthy like that. And I await more Peyton List on Mad Men later this month. Mmm…. quality T.V. with boobies.
Here's your links:
The great Skweezy Jibbs releases his first music video: Phat Black Women.
What's fake tanned, pumped up and ridiculously douchey? Wrestler Darren Young. No R.L.R. forgiveneness for that look, Darren.
Douchebag Exterminator gets his own T.V. Show. And by "exterminator," I mean the annihilation of culture, quality, taste and intellect.
One of the key corporate sponsors of the douchepocalypse, Axe Bodyspray pollutes a boobie at the World Cup.
Reader Bryan creates a pretty hilarious HCwDB Tapout Logo. Could make for some nice photoshop fun for the designers among us.
Eagle-Eyed reader 'Bagville noticed that Facebook's online game Farmville is now talking like Stackhouse. Let me know when Farmville finds some whobag jumpoffs.
Mantyhose. For when you absolutely positively need to have the appearance of tribal tattoos on your legs. And yet another sign of the crisis of modernity.
But you're not here to laugh at Mantyhouse. Well, yeah, you are. But you're also here for Pear. No week is complete without your Pear reward. So here you go:
Let it never be said that there is no meaning in this universe again.