Friday, July 23, 2010
Friday Thoughts and Links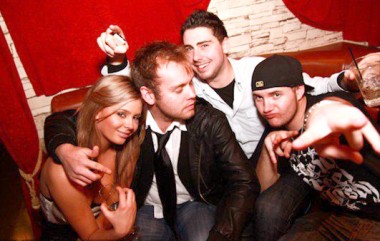 Today's Friday Thoughts and Links pic comes to us all the way from New Zealand, reminding us that while douches are the same the world over, the Kiwi Hotts are delectable middle earth sunflowers.
Your humble narrator is hard at work as Season #3 of Is She Really Going Out With Him? gears up for production, and also on developing two new shows which will bring the HCwDB aesthetics of comedy to new places. And by places, I mean boobies.
Times is good. And HoHos are chocolatey.
Here's your links:
HCwDB's own Mr. Biggs has created an amazing new comic book which he'll be promoting at ComicCon this weekend, Inferno 2010. Douchebag mocking will be well repesented, so kick your fellow 'bag hunter some cash to help make his art project happen.
Corey Feldman. Still out there. All alone now.
I'll take Things You Can't Unsee for $500, Alex.
Eagle-eyed reader Robin discovers the important historical origins of the Douchebag Yankee Cap Tilt.
Douchebags on Facebook make the news.
From the United Kingdom comes some "celebrity" I've never heard of who keeps getting sent to me as an example of a stage 4 Douchebaguette. Her name is Jordan Marsh or something. I'm pretty sure my mom bought a couch from her in Boston in 1983.
Hedonist Rick is into "The Rippin' and the Tearin'." (With eye gouging dance moves)
But you are not here for Hedonist Rick's hyphy dance moves. You are here to celebrate your week of successful douchemock with Pear.
First up: Ass Pear: The Movie.
And if that don't get ya goin', I offer thee:
For those hot summer days when one pear simply will not do.